Educational Assistance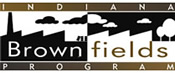 The Indiana Brownfields Program promotes its financial, legal and technical services through various education and outreach activities. The Program provides educational opportunities about brownfield redevelopment and the Program via its web site and various written materials, as well as one-on-one assistance through phone calls, meetings and workshops. Resource materials include request for services forms, fact sheets, guidance documents and newsletters.
To stay current on national brownfield issues and to convey such information to Indiana stakeholders, Program staff participate in and present information at various national and local workgroups, advise federal and local educational programs, and coordinate and participate in project meetings, workshops and conferences.
For more information about the Program's education and outreach activities, please contact Michele Oertel, Federal Funding and Community Relations Coordinator, at (317) 234-0235 or moertel@ifa.in.gov.
---
Indiana Brownfields Bulletin
To subscribe to the Brownfields Bulletin Listserv and receive the Indiana Brownfields Bulletins by email, click here.
---
Reference Materials
Brownfield Success Stories - The Program is always looking to highlight successful local redevelopment projects. Stakeholders can learn from each other, so share your stories and allow the Program to be a vehicle on that road to success!! To submit a brownfield success story, please contact Michele Oertel at moertel@ifa.in.gov.
---
Archives