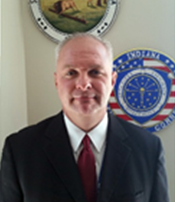 Warden Donald Emerson
About Plainfield Correctional Facility:
Established in 1964 as the Indiana Youth Center, the Plainfield Correctional Facility now has a capacity to hold more than 1,600 incarcerated individuals in dormitory housing. This facility is a medium security facility which offers resources and treatment geared toward mental health and substance use, along with multiple educational opportunities. The goal is that through treatment and rehabilitation geared toward everyone, the facility will help prepare incarcerated men to re-enter their community with more skills and confidence than when they arrived.
---
Plainfield Correctional Facility | 727 Moon Road, Plainfield, IN 46168 | (317) 839-2513