Mailing Address for Incarcerated Individuals
5124 W. Reformatory Road, Pendleton, IN 46064
Visitation
Public Visitation:
Please refer to the IDOC visitation page to find the most current information regarding visits.
Attorney Visits:
Requests for general in-person legal visits between attorneys and Incarcerated Individuals must be made to the facility where the Incarcerated Individuals is housed. Attorney/Incarcerated Individuals visit requests are being scheduled and will continue as long as it is safe to do so on a facility-by-facility basis. Based on the conditions of each facility, they are subject to being postponed or rescheduled. A reliable alternative to an in-person attorney/Incarcerated Individuals visit is to schedule a confidential phone call. Incarcerated Individuals must have the attorney's phone number added to their approved telephone list. All calls are to be 'collect calls' unless the Incarcerated Individuals utilizes prepaid minutes.
Visiting Guidelines
Contact visits are currently authorized per IDOC Policy 01-02-107
Food items shall no longer be allowed to be consumed in the visiting room. You may purchase food from the vending machines which the Incarcerated Individuals you are visiting may take back to their housing unit to consume. Any food item opened in the visiting room shall be confiscated and destroyed, additionally you may subject to visiting restrictions. CIF shall be utilizing a K9 unit at visitor processing as well as the visiting room. These animals are not to be touched or approached in any manner. Instructions regarding the K9 unit shall be given by the dog's handler during the search procedure.
There is a (2) hour time limit on visitation. If the visiting room is at capacity the visitation length may be reduced to accommodate all visitors.
Volunteer Opportunities
---
Faith-based Services - The chapel is a wonderful way to help bring others closer to their faith. We hold many different religious services in our Chapel. We also allow religious studies on our Faith Dorm, SHAMGAR.
Recreation - Our recreation department has many different areas where Incarcerated Individuals can express themselves. That includes art, music, and exercise equipment / sports.
We currently need volunteers for our PLUS program to help facilitate classes. The Purposeful Living Units Served (PLUS) program encourages the Incarcerated Individuals to change their criminal thinking and improve themselves and others around them. We are currently donating garden produce to local food banks.
Community Engagement Coordinator
---
Please contact the Community Engagement Coordinator if you are interested in volunteering or donating. For general volunteer information, please visit the IDOC Volunteer page.
Community Advisory Board Meetings begin at 9:30 a.m. (ET) (Pendleton Correctional Complex)
These meetings consist of community advisory board members (CAB). A list of members can be found HERE
Programs
---
The Indiana Department of Correction offers a wide selection of programming, courses, and activities based on both facility and offender need, as well as available resources. Listed below are several current programming opportunities available at the facility. While staff leads some, many are volunteer-driven. If you are interested in learning more about volunteer opportunities, please visit our volunteer page. For more information on these programs and/or a complete listing of the programs the IDOC offers, please visit the IDOC Programs page.
Purposeful Living Units Served (PLUS)
Narcotics Anoymous
Thinking For A Change
FIDO Program (Saving Canines)
9 Lives Program (Saving Felines)
Saving Max
Indiana Correctional Industries (ICI)
IN2WORK
Inside Out Dads
RWI
Problem Solving for Successful Re-entry
Education Programs

Literacy
Adult Basic Education
English as a Second Language
TASC

U.S. Department of Labor

ICAN
Physical Plant
Office Manager/Admin Services
Animal Trainer
Education and Training
Housekeeper, Commercial, Residential Industrial
Sewing Machine Mechanic
Machine Operator
Assembly Tech
Material Coordinator
Sanitation

Vocational Education

Business Technology
Building Maintenance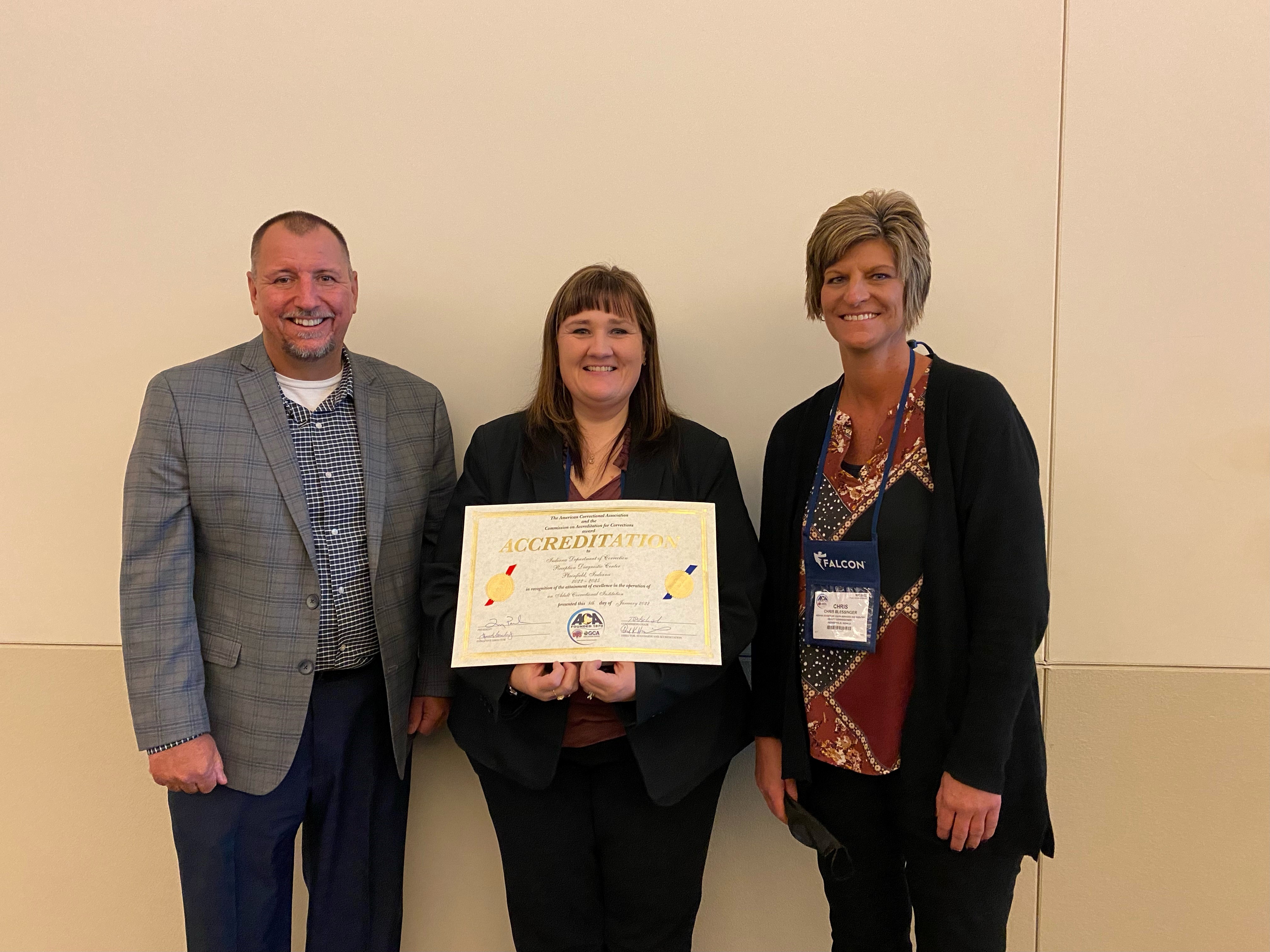 Warden: Delana Gardner
In 2021, RDC received its ACA Accreditation.
(Pictured above from left is DC Bassinger, Warden Gardner, DC Blessinger.)
About Correctional Industrial Facility (CIF):
On October 18, 1984, the Indiana Department of Correction broke ground for the Correctional Industrial Complex (CIC), later renamed the Correctional Industrial Facility (CIF), located in Pendleton. CIF is a medium security facility that can house more than 1,400 adult male incarcerated individuals. In addition to educational programming offered to incarcerated individuals, the facility also offers work and vocational training opportunities, including the brake shop where incarcerated individuals refurbishes brake pads.
---
Correctional Industrial Facility | 5124 W. Reformatory Road, Pendleton, IN 46064 | (765) 778-8011