This historical building, completed in 1888, is home to all executive offices, the Indiana State Senate, the Indiana House of Representatives, and the Indiana State Supreme Court, among others. The four-floors of the Statehouse also contain both the House and Senate Chambers.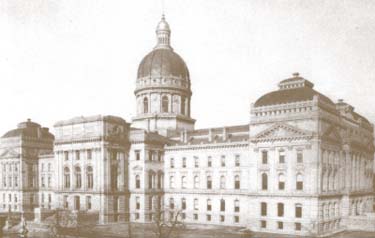 The story of the Indiana Statehouse began in Southwest Indiana, in Vincennes, the Indiana territory's first seat of government. The original territorial Capitol building still stands today. In 1813, as westward-bound settlers and supplies started to arrive in the territory via the Ohio River, territorial government was moved to Corydon, a short distance away.
Indiana became a state on December 11, 1816; Corydon remained the seat of government. The original Statehouse, a 40-foot-square building, was made of Indiana limestone and still stands.
As more roads were built and settlement moved northward, a centrally located seat of government was needed. In January 1821 a site was selected and the city of Indianapolis was founded.
While the Statehouse location has remained fixed since 1835, the original building no longer stands. The Statehouse in use today replaced it in 1888. One hundred years later, in 1988, the Statehouse was extensively renovated.
Architecture
Made of Indiana limestone and designed in classical Renaissance Revival style, the architecture of the Indiana Statehouse was influenced by the national Capitol. As architecturally beautiful as it is functional, the interior is marked by a stained glass dome, marble floors and steps, granite columns, two-three story atriums, and period wall and ceiling designs. Flowering trees and shrubs as well as historic markers and monuments adorn the Statehouse grounds.