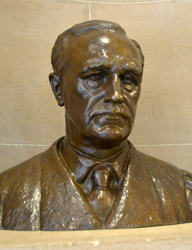 Associate Justice, Supreme Court of the United States
1st Supreme Court Justice Appointed from Indiana
U.S. Senator from Indiana
Advisor to President Roosevelt in 1941
Bust Location
Statehouse Rotunda
3rd floor, facing south,
east corner

Born
Georgetown (Floyd County), Indiana

Lived
New Albany
---
Sherman Minton was born in Georgetown, Floyd County, Indiana on October 20, 1890. He attended public school there until he went to Indiana University to study law. Graduating in 1915, Minton was also admitted to the Indiana bar that year. Minton then went to Yale University to continue his law studies, graduating from there in 1916. At that time, Minton returned to Indiana and set up a private law practice in New Albany.35
During World War I, Sherman Minton served as a U.S. Army captain. Following the war, Minton had the opportunity to continue his law studies under the Faculte de Droit at the Sorbonne in Paris.36 Minton unsuccessfully ran for an Indiana congressional seat in 1920 and 1930. In between these bids, he worked as a trial lawyer in Miami, Florida. In 1928, he returned to his private practice in New Albany.37
Though he was initially unsuccessful in his bid for public office, Minton was elected as a Democrat to the United States Senate and served from January 3, 1935 to January 3, 1941. His campaign slogan was, "You can't offer a hungry man the Constitution!"38 During his time in the Senate, Minton served as assistant Democratic whip, Democratic whip (1939-41) and chairman of the Committee on Pensions.39 Throughout his time as a U.S. Senator, Minton became known as one of the most liberal New Deal Senators, and was intensely partisan on most issues.40 In 1940, Minton unsuccessfully ran for reelection, and was defeated in large part because of his support of the Selective Service Act, which was very unpopular in Indiana.41
Following his senatorial defeat, Minton was selected by President Roosevelt to serve as one of his close advisors. After five months of service to the President, Minton was nominated (May 7, 1941) to a vacancy on the Court of Appeals for the Seventh Circuit, where he remained for eight years42 (May 19, 1941–October 11, 1949).43
When Sherman Minton was first elected to the U.S. Senate, he was one of a 13-member freshman class (all Democrats), which included the future President Harry Truman. Truman and Minton were actually seated next to each other on the Senate floor. In 1949, a vacancy opened up on the U.S. Supreme Court, and Truman nominated Sherman Minton to fill the vacancy. Among the members of the Senate Judiciary Committee, Minton's nomination sparked some controversy, because he had been a supporter of FDR's attempts to restructure the Supreme Court only a few years earlier.44 After much debate, Minton's nomination (September 15, 1949) was ultimately confirmed (October 5, 1949).
As a result of his reputation as a staunch supporter of Democratic policies, many expected Minton to vote along party lines as a Supreme Court Justice. However, Minton was much more interested in ensuring that the Supreme Court did not legislate, but rather interpret the laws as made by the legislative branch of government. As a result, Minton chose to vote based primarily on previous court decisions and became very non-partisan in this regard.45
While Sherman Minton was very opposed to the Supreme Court actively legislating, he took a very strong stance in regards to the landmark case Brown v. Board of Education while he served under Earl Warren. Minton played an important role in encouraging that a unanimous decision be made by the court in ruling segregation unconstitutional. On May 17, 1954, the Supreme Court announced its decision to overturn Plessy v. Ferguson, ruling against segregation. Minton was quoted as saying that Brown v. Board was "the most important decision of the century because of its impact on our whole way of life," and that it was the decision of which he was most proud of being a part of.46
On October 15, 1956, Sherman Minton retired from service due to ill health and returned to his residence in New Albany. He remained there until his death at the age of 74 on April 9, 1965.47 Sherman Minton's body is interred at the Holy Trinity Catholic Cemetery in New Albany.
Bust History
Shortly after Minton's retirement from the United States Supreme Court, Indiana Governor George N. Craig commissioned a bust of Minton to be put on display at the Statehouse. The costs for the bust were paid for out of the Governor's contingency fund. The bust was cast in New York and transferred to Indiana. The unveiling ceremony took place on December 21, 1956. Speakers included Gov. George N. Craig, William T. Fitzgerald, then president of the Indiana State Bar Association, and Sherman Minton himself. Originally placed in the niche outside of the Governor's office, on the Southeast outside corner of the rotunda, the bust is now located in a niche on the Southwest outside corner of the rotunda on the second floor.48
Sculptor
Robert Merrill Gage
Sculptor Robert Merrill Gage (December 26, 1892–October 30, 1981) is a native of Topeka, Kansas. He is known for his sculptures of public figures, including one of Abraham Lincoln which is now on the grounds of the Kansas State Capitol. When Gage was commissioned to create the bust of Sherman Minton, he was working as a professor of sculpture at the University of Southern California.49
---
35 Biographical Directory of the United States Congress. "Sherman Minton." http://bioguide.congress.gov/scripts/biodisplay.pl?index=m000800
36 Atkinson, David N. "From New Deal Liberal to Supreme Court Conservative: The Metamorphosis of Justice Sherman Minton." Washington University Law Quarterly, 1975 (2). p 373.
37 Ibid.
38 Ibid. p 374–75.
39 Biographical Directory of the United States Congress.
40 Atkinson, David N. p 374.
41 Ibid. p 375.
42 Ibid. p 376–77.
43 Federal Judicial Center. "History of the Federal Judiciary."
44 United States Senate Arts & History. "Historical Minutes, October 1, 1949: Supreme Court Nominees Refuse to Testify." http://www.senate.gov/artandhistory/history/minute/Supreme_Court_Nominees_Refuse_To_Testify.htm
45 Atkinson, David N. p 385.
46 Gugin, Linda C. and James E. St. Clair. "Sherman Minton: new Deal Senator, Cold War Justice." Indianapolis, IN: Indiana Historical Society Press, 1997. p 261–66.
47 Federal Judicial Center.
48 "Sherman Minton (bust)." http://www.wikipedia.org/wiki/Sherman_Minton_(bust)
49 Ibid.