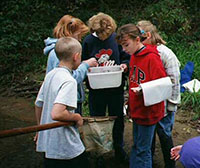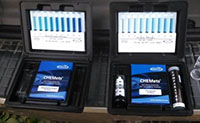 Hoosier Riverwatch volunteer stream monitors have three ways to access the equipment needed to monitor wadeable streams.
If you belong to a qualifying group -- such as a school, nonprofit organization, or governmental agency in Indiana -- you may apply to receive a stream monitoring equipment kit on behalf of your group. Hoosier Riverwatch has awarded more than 250 monitoring kits to volunteer groups since 1996. Equipment recipients form the foundation of the Hoosier Riverwatch volunteer stream monitoring network. These volunteers agree to monitor their selected stream or river segments and submit data into the Hoosier Riverwatch online database at least four times per year for two years. Recipients must also attend one or more training workshops. To apply, complete and submit the Hoosier Riverwatch Water Monitoring Equipment Application (State Form 55220, available on the IDEM Agency Forms page).
You may borrow one of the many loaner equipment trunks that are available around the state [PDF]. Check with a local office to see if their loaner trunk is available during the time frame you need it. If a loaner trunk is not located near you, contact the Hoosier Riverwatch staff and ask if they can find a suitable site to house and maintain a loaner trunk for your area. To reserve a loaner trunk, complete and submit the Borrower Agreement [PDF] and the Liability Release [PDF].
You may wish to purchase or make the equipment you need for monitoring. See Appendix A in the Hoosier Riverwatch Volunteer Stream Monitoring Training Manual for instructions.
Please Note
You may use any valid surface water sampling method or technique to collect data. The Hoosier Riverwatch online database will accommodate entry of a variety of sampling techniques and equipment. However, for ease of training and ordering, the Hoosier Riverwatch staff maintains provisions for only one sampling method per parameter of interest (i.e., temperature, pH, dissolved oxygen, etc.).
Volunteers who have received IDEM-sponsored monitoring kits and/or managers of IDEM-sponsored loaner trunks should follow the equipment refill instructions when additional consumable supplies are needed.