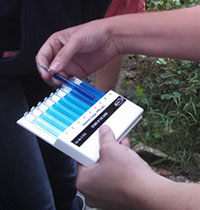 Refill Instructions
Hoosier Riverwatch provides free refills of consumable monitoring supplies—such as phosphate refills, color comparator refills, activator solution, dissolved oxygen refills, and test strips—to individuals and/or groups that are receiving Hoosier Riverwatch equipment grants and/or maintaining loaner equipment trunks that are located across the state. To be eligible, the individuals and/or groups must:
Be registered in the Hoosier Riverwatch online database.
Be actively sampling and submitting data into the database (those receiving equipment grants must actively sample and submit data at least four times per year for two years).
Agree to continue monitoring and submitting data into the online database.
The Hoosier Riverwatch coordinator tracks equipment use and uses the above criteria to justify the expense of continuing to supply these materials to grantees.
E. coli testing materials are also available, but only to individuals that meet the above criteria and attend a Hoosier Riverwatch advanced training workshop.
Hoosier Riverwatch may also supply nonconsumable monitoring supplies -- such as transparency tubes, thermometers, aquatic kick nets, dip nets, magnifiers, ice cube trays, etc. -- whether the need is due to breakage, loss, or expansion of a monitoring program. The availability of nonconsumable supplies is dependent on whether requested supplies are available in-house or whether the Indiana Department of Environmental Management has funds to purchase and provide the needed supplies.
How to Order
Use the Equipment Request (State Form 57140) to order the refills you need. The Hoosier Riverwatch staff welcomes your requests! In fact, they would rather refill your supplies because you use them up so quickly, rather than because they expired. Either way, please keep up your monitoring and data entry efforts. Your participation makes a difference!
If you are ordering nonconsumable supplies, provide this information in the "Other" field at the bottom of the Equipment Request:
A list of the equipment needed.
An explanation for why new and/or extra equipment is needed.
An explanation for how the equipment was lost or damaged.
Don't worry. The Hoosier Riverwatch staff understands that accidents happen to even the most diligent among us. They will do their best to help keep your monitoring program up and running in a timely manner.
A Note to Instructors
Hoosier Riverwatch instructors should email the link for the Equipment Request to their staff when notifying them that their training supplies need to be replenished.