Pollution prevention and other environmental stewardship activities, such as recycling and proper waste management, help ensure that Indiana's environment and economy are sustained for future generations.
Pollution prevention (P2) means working at the source of pollutants to prevent them from being generated or to reduce the amount generated. It is using materials and energy more efficiently, and conserving natural resources, including water. It is following best management practices, and involving all relative people in their implementation, to reduce and prevent pollution. Finally, P2 also means seeing the financial benefits of increased efficiency in the use of raw materials, energy, water or other resources. The "Pollution Prevention Hierarchy" illustration outlines the concepts of pollution prevention in the order of greatest effectiveness related to resource use and waste / pollution generation.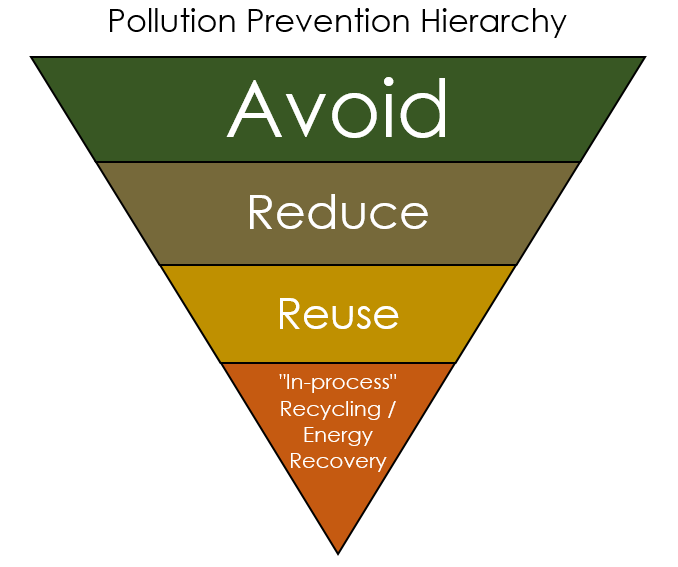 Defining Pollution Prevention (P2)
Source Reduction is any activity that prevents the creation of solid or hazardous waste at the point of generation or minimizes the volume and toxicity of waste entering the waste stream. Source reduction is one of the primary components of P2, and sometimes the term is used synonymously with P2.
The focus of P2 is conservation and waste minimization or elimination, not pollution control. Actions taken after waste has been generated, including out-of-process recycling, composting, treatment, concentration, or dilution, are not considered P2.
The "Waste Management Hierarchy" illustration demonstrates that the most desirable waste reduction priorities are source reduction and reuse, followed by environmentally sound recycling and composting; energy recovery; treatment; and as a last resort, disposal or release (including unintended spills).
Since source reduction and reuse both result in the prevention of waste, the amount of waste requiring management is reduced overall. Waste reduction of these types are given the highest priority in solid waste management plans because they reduce the demand placed on the management systems.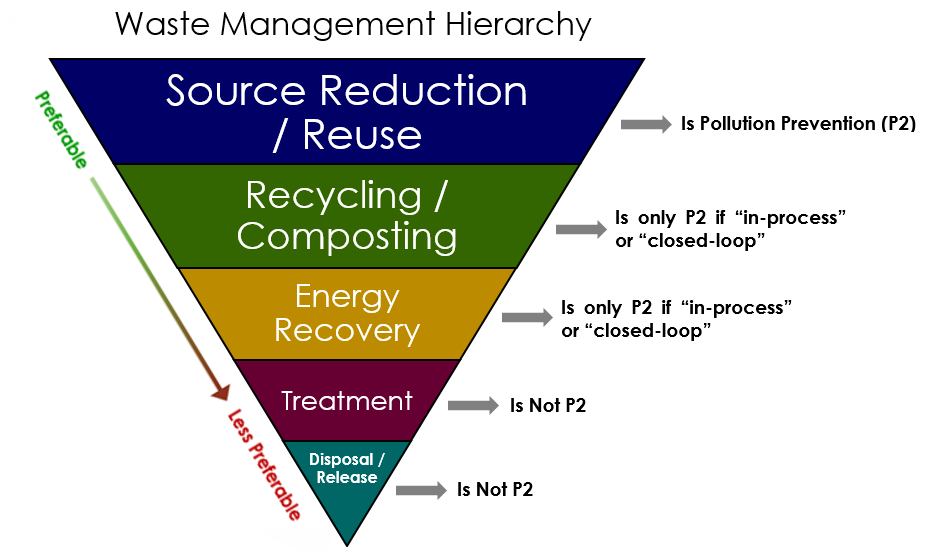 Pollution Prevention Includes:
Any practice that (these practices are known as "source reduction"):

Reduces the amount of any hazardous substance, pollutant or contaminant entering any waste stream or otherwise released into the environment (including fugitive emissions) prior to recycling, treatment, or disposal, and
Reduces the hazards to public health and the environment associated with the release of such substances, pollutants, or contaminants.

Other practices that reduce or eliminate the creation of pollutants through:

Increased efficiency in the use of raw materials, energy, water, or other resources, or
Protection of natural resources by conservation.

Equipment or technology modifications; process or procedure modifications; product reformulation or redesign; substitution of raw materials; or improvements in housekeeping, maintenance, training or inventory control.
To consider an "in-process" or "closed-loop" recycling and / or energy recovery activity a form of pollution prevention, it must serve a productive function with the making of the commercial product or the service provided for which the original process was designed. Such practices are only considered P2 if they become an integral part of the operations (i.e., the production process cannot function without the "in-process" recycling component).
Pollution Prevention Does Not Include:
Energy recovery that is external to the process
Recycling that is external to the process
Treatment of a waste stream
Disposal or release
Any practice that alters a hazardous substance, pollutant or contaminant once it has been generated
Any practice that is not necessary for production
Practices that create new risks to human health or the environment