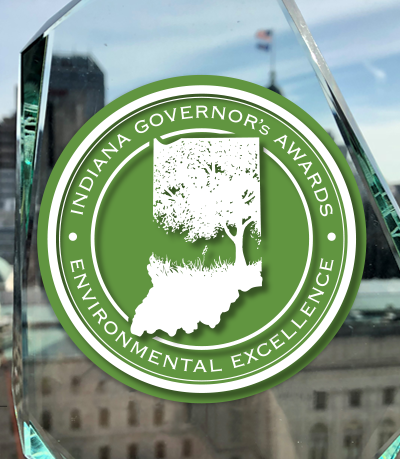 The deadline for nominations is 5:00 PM EDT on Monday, April 5, 2021.
The Indiana Department of Environmental Management (IDEM) Governor's Awards for Environmental Excellence are Indiana's most prestigious environmental recognition awards. They are reserved for the most innovative, sustainable, and exemplary programs or projects that positively impact Indiana's environment and demonstrate measurable environmental, economic, and social benefits. The selection process is highly competitive, and only one award per category will be presented during a ceremony in September annually. The 2021 Awards Program will open on Monday, January 25, 2021.
Eligibility Requirements
Any Indiana citizen, business, nonprofit organization, school, university, or government agency may submit a nomination or be nominated for the award. For a program or project to be eligible, it must have been:
Located in Indiana.
Fully implemented/finalized in 2019 or 2020 or for long term projects (i.e. those initiated prior to 2019) finalized by 2020.
Performed voluntarily (not the result of federal or state mandates, regulations, or enforcement decrees).
The nominee must:
Provide quantifiable data to support the nomination.
Have a positive reputation for environmental health and safety

(unresolved compliance issues or enforcement actions involving the nominee or its parent company may eliminate a project from consideration for the award)

.
Agree to share the program or project details with others so IDEM can promote it via state websites, social media, and publications.
Awards Categories:
Energy Efficiency/Renewable Resources;
Environmental Education and Outreach;
Five year Continuous Improvement;
Greening the Government;
Land Use/Conservation;
Pollution Prevention;
Recycling/Reuse;
View the Winners from the 2020 Governor's Awards for Environmental Excellence and other past award recipients' projects. The example project descriptions may inspire Hoosiers to either begin a new project, expand an existing project, or to submit an award nomination for innovative and sustainable projects.
2020 Governor's Awards Winners' Presentations:

City of Richmond [PDF] (Pending)
Cummins Engine Plant [PDF] (Pending)
Elkhart County Soil and Water Conservation District [PDF] (Pending)
Indiana University Bloomington [PDF] (Pending)
Midwest Dairy Recycling LLC [PDF] (Pending)
Vuteq Indiana [PDF] (Pending)

The 2020 Governor's Awards Ceremony [YouTube]:

7:30-24:00: Governor's Awards Ceremony - Bruno Pigott, IDEM Commissioner
Selection Criteria
A review committee selected by IDEM's Office of Program Support (OPS) will evaluate the nominations based on how well the programs or projects meet the criteria in the Narrative Guide [PDF]. The committee will include representatives from health care, economic development, agriculture, education, energy development, government, pollution prevention, and recycling.
How to Complete and Submit a Nomination
1) Complete the Nomination Cover Page (State Form 51656) on the IDEM Forms Page for the Governor's Award for Environmental Excellence.
Under Project Summary on side 2 of the form:

Summarize the main points and highlights of the project;
Include specific and concise descriptions of the environmental, economic, and social benefits and overall merits of the project using key concepts from other sections of the nomination, and,
For long-term projects (those initiated prior to 2019), focus on the environmental, economic, and social benefits achieved within the past three years and explain how the project is a model for others to emulate.
2) Follow the instructions in the Narrative Guide [PDF] and prepare a comprehensive nomination composed of no more than ten (10) double-sided pages.
The nomination packet should include:
A properly completed Nomination Cover Page;
A narrative of the project completed as set forth in the Narrative Guide [PDF]; and,
Any supplemental material(s).
3) Submit one (1) copy of the nomination packet by U.S. Mail, email, fax, or hand delivery to the Office of Program Support. The 2021 nomination round will close on April 5, 2021 at 5:00 PM EDT.
Webinar
The Governor's Awards Webinar takes viewers through the process of compiling a nomination using the Narrative Guide [PDF] and Example Project [PDF].
Selection of Award Recipients
After the nominations are received, IDEM will conduct a background investigation of each nominee's environmental history with IDEM, the U.S. Environmental Protection Agency, the Indiana Department of Workforce Development, and the Indiana Department of Revenue. Nominees with a reasonably positive reputation with all of these agencies will be forwarded to the review committee for consideration. Past compliance issues will not necessarily eliminate a nomination from consideration. The review committee will evaluate the severity of any compliance issues during the review process.
Note:
Information submitted in nominations for the Governor's Award for Environmental Excellence becomes public record.