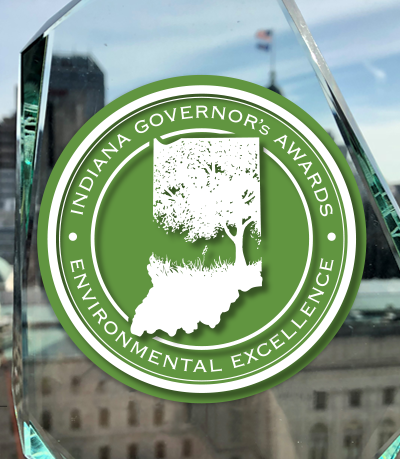 Nominations for the Governor's Awards for Environmental Excellence are now available! Begin your nomination today!
Presented annually since 1994, the Governor's Awards for Environmental Excellence (GAEE) recognize Indiana citizens, government agencies, businesses, organizations, and educational institutions for outstanding achievements that positively impact Indiana's environment.
GAEE are reserved for the most innovative, transferrable, and effective programs or projects with measurable environmental, economic, and social benefits.
The selection process is highly competitive, with nominations falling into one of the award categories. Only one award per category is presented.
By recognizing these achievements, the GAEE increases awareness of effective environmental practices and encourages implementation of sustainability efforts.
Award Categories
The award categories and their descriptions are as follows:
Energy Efficiency/Renewable Resources
For projects or programs that prevent pollution by reducing energy use or by producing energy using zero- or very-low-emission technologies. Examples include efforts to significantly increase the energy efficiency of buildings or equipment, the use of environmentally benign energy production technologies, and/or the use of innovative technologies that reduce dependence upon energy sources that generate high emissions.
Environmental Education and Outreach
Recognizes excellence in education or outreach programs promoting environmental stewardship or resulting in enhanced environmental protection. Examples include creative school presentations and assemblies, hands-on group activities, green marketing techniques, or business outreach and media campaigns. One-day events are not eligible.
Five Year Continuous Improvement
Applies to a business or industry that has achieved proven environmental results through a comprehensive environmental management system, such as ISO 14001. Nominees must verify that the environmental management system has been in place at the facility for at least five (5) years. Nominations should describe several projects which have resulted from implementation of an environmental management system and led to significant environmental benefits. Only those nominations demonstrating exceptional continued environmental excellence through proven results will be considered for an award.
Recognizes local, county, or state government which pursue improvements in environmental performance within their own operations as part of a broader Greening the Government effort. To be eligible in this category, the nominee must demonstrate a comprehensive Greening the Government initiative, which includes at least three in-house, environmentally focused program areas. Examples include an environmental education program for government employees; an internal recycling collection program; a program for purchasing recycled-content and environmentally preferable products; the implementation of pollution prevention and energy efficiency strategies; or the development of programs to reduce impacts of employee transportation to and from the workplace.
Recognizes projects that incorporate innovative and effective methods or practices to preserve or improve land use. Examples include the revitalization of underutilized or contaminated land; the preservation of green space; sustainable farming practices; invasive species elimination; habitat protection/creation; timber stand improvement; or the reduction of urban sprawl. Specific examples include redevelopment of brownfields; increasing density/decreasing lot size; building public green spaces; turning abandoned landfills into parks, preserves, or other productive uses; implementing innovative smart growth policies or comprehensive plans; and transitioning marginal agricultural lands into wildlife habitat. Special consideration will be given to projects that prevent pollution or include extensive public participation.
Recognizes innovative projects that meet the definition of pollution prevention or source reduction (i.e., reducing the amount of any hazardous substance, pollutant, or contaminant entering any waste stream or otherwise released into the environment [including fugitive emissions] prior to recycling, treatment, or disposal; and reducing the hazards to public health and the environment associated with the release of such substances, pollutants, or contaminants). Example projects include equipment or technology modifications; process or procedure modifications; product reformulation or redesign; substitution of raw materials; improvements in housekeeping and/or maintenance; training; and inventory control. Pollution prevention DOES NOT include energy recovery; treatment of a waste stream; disposal; recycling; any practice that alters a hazardous substance, pollutant, or contaminant once it is generated; practices not necessary for production; practices that create new risks to human health or the environment; or general environmental management practices (rather than a specific pollution prevention project that resulted from an environmental management system).
Recognizes outstanding reuse or recycling programs using innovative methods to reduce the amount of waste sent for final disposal. Projects can address residential, commercial, or industrial waste streams or "buy recycled" purchasing initiatives. The nominated project should demonstrate reuse, recycling, and/or buying recycled components. Examples include commercial business operations that have fully integrated waste reduction operations; programs that have created extensive "buy recycled" purchasing policies and practices; and schools that have implemented comprehensive recycling/waste reduction programs. Programs/projects that do not address reuse, buying recycled, and/or recycling issues throughout the entire operation of the organization will receive a lower ranking.
Award Criteria
A review committee selected by IDEM's Office of Program Support (OPS) evaluates nominations based on the following award criteria:
Project Description

Provides a comprehensive description of the project, including location where the project was implemented (i.e. location within company, property or community).
The project must be fully implemented/finalized in the two years prior to the nomination deadline or for long term projects must be completed by the year prior to the nomination deadline to qualify for this year's awards.
Includes a description of how the project protects the environment or increases the sustainable use of Indiana's natural resources.
Identifies what motivated the facility or organization to undertake the project.

Innovation, Environmental Stewardship, and Partnerships

Identifies what makes the project innovative and/or sustainable, or how creative or unique partnerships were developed.
Indicates the partnerships which resulted in constructive solutions to environmental challenges.
Describes how the project increased the organization's capacity to advance environmental stewardship.
Describes any new process, equipment, or procedures developed specifically for this project.
Discusses any operational, product, or maintenance improvements because of the project
Environmental Excellence Definitions

Innovation
Those practices that exemplify outstanding creativity, introduce new approaches, or advance emerging technologies. Environmentally sound and economically feasible projects that demonstrate successful application of new practices and tools that result in measurable environmental benefit and economic viability. Practices serve as a model for others.

Environmental Stewardship
Those practices that demonstrate a shared responsibility for environmental quality by all whose actions affect the environment. Organizations putting systems in place that will enable them to:

Use resources efficiently.
Reduce waste and minimize the negative impacts on the environment.
Translate reduced consumption and waste into financial savings.
Provide a healthy, more efficient and effective working environment.

Partnership
Those practices that demonstrate a unique or creative relationship between two or more parties that allow them to:

Work together to make better use of natural resources;
Develop innovative solutions; or
Advance sustainable actions that achieve measurable environmental and economic benefits.
Measurable Environmental, Economic, and Social Benefits

Describes the significant environmental, economic, and social benefits achieved because of the project or program. The list of metrics below has been provided as a starting point. This list is not meant to be all inclusive. Each metric category may not apply to every project or program and there may be relevant metrics that are not listed. It is important to note that presenting all relevant metrics in the manner suggested will add credibility to the nomination.
For long-term projects, metrics must focus on measurable benefits achieved in the past three years.
To the extent that data is available, presents metrics in absolute terms and includes both a baseline value (with associated date) and an achieved value (with associated date). Providing a percent reduction is optional. However, including absolute data will make for a more competitive nomination. Example: The project resulted in a reduction of total non-transportation energy use from 225,000 KWh in 2018 to 190,000 KWh in 2019, a reduction of more than 15%.
Metrics to Include in Nominations

Supply Chains and Procurement of Materials:

Recycled content required (in pounds, tons, or percentage).
Hazardous or toxic materials used (in pounds or tons).
Information about the suppliers' environmental performance, such as if suppliers have any environmental certifications or Environmental Management System (EMS).

Materials Reductions:

Hazardous materials replaced with non-hazardous materials (in pounds or tons).
Ozone depleting substances replaced with non-ozone depleting materials (in pounds or tons).
Non-renewable resources reduced (as appropriate).
Total packaging used or reduced (in pounds or tons).
Total water used and water use reductions (gallons).
Total non-transportation energy saved (kWh, MWh, or Btu/MMBtu).
Transportation energy reductions (kWh/MWh, gallons, cubic feet).

Air Emissions:

Volatile Organic Compounds reduced (in pounds or tons).
NOx, SOx, PM2.5, PM10, air toxics reduced (in pounds or tons).
Total greenhouse gases reduced.

Water Discharges:

Chemical Oxygen Demand or Biological Oxygen Demand reductions (in pounds or tons).
Toxics reduction (in pounds or tons).
Total suspended solids reduced (TSS) (in pounds or tons).
Nutrient reductions (in pounds, tons, or total nitrogen or phosphorus).
Sediment reduction (in pounds or tons).

Waste Reduction:

Hazardous or non-hazardous waste reductions (in pounds or tons) and management method used.
Materials being reused, recycled, or composted (in pounds or tons).

Land and Habitat Conservation and Protection:

Habitat saved, protected, and/or created (in acres).
Open space protection or creation (in acres).
Sensitive species protected or reintroduced (by name and quantity).
Improvements to natural resource stewardship (describe).
Soil health best management practices.
Implementing soil-based conservation systems within row crop production operations
Superior Practices

Describes how the project incorporated practices that achieved an environmental benefit beyond what could be achieved using standard techniques.
If applicable, describes how the project achieved an environmental benefit by exceeding the applicant's regulatory requirements.
Explains how the project, approach, or technology is superior to similar projects being implemented by others.

Commitment and Leadership

Describes how the project demonstrates the nominee's commitment to sustainability and leadership to achieve and maintain innovative solutions to environmental and economic challenges.
Describes written policies or management practices that demonstrate continued commitment and leadership in protecting the environment.
Describes employee engagement, education, or training aspects of the program/project.
Describes any technical assistance provided or received and its effect on the project.
Indicates whether the project self-sustaining and ongoing.

Transferability

Indicates whether the program/project lends itself to replication by other organizations or individuals.
Indicates whether any project activities or results are currently being shared with others.
Explains how the project serves as a model for other successful projects.

Funding

Describes and provide a breakdown of the organization's financial commitment, including the financial commitment of the parent company or organization to the project beyond any grant or outside sources.
Provides information about any creative financing techniques or examples of how additional funds were leveraged (i.e., grants, loans, donations, etc.)
Discusses the cost and economic benefits of your program; please be as specific as possible.

Supporting Documentation

Photos are strongly encouraged. Please include at least four photos with descriptions submitted via PowerPoint.
Includes links, photos, illustrations, and/or an easily understandable schematic that will assist reviewers in understanding the technical elements of the project.
Provides other supporting information: an example of curriculum, presentation, pamphlets, energy logs, emission reports, forestry reports etc. As appropriate, provide links to additional photos, maps, diagrams, videos, press clips, letters, etc., only if these materials clearly support the nomination.
GAEE Nomination
Deadline
Nomination Deadline: 5:00 p.m. EST on the first Monday of March.
Eligibility Requirements
Indiana citizens, government agencies, businesses, organizations, and educational institutions may submit a nomination or be nominated for the award. For a program or project to be eligible, it must have been:
Located in Indiana.
Fully implemented/finalized in the two years prior to the nomination deadline or, for long term projects, finalized by the year prior to the nomination deadline.
Performed voluntarily (not the result of federal or state mandates, regulations, or enforcement decrees).
Guidelines for Preparing a Nomination
Complete the Governor's Award for Environmental Excellence Nomination Form on the IDEM Forms Page.
Nomination Writing Tips:
Write in plain language and avoid the use of technical jargon. Nominations are evaluated by a wide variety of reviewers with varied backgrounds.
Review the "Award Category" descriptions and ensure the project qualifies.
Provide clear, measurable, and documented metrics. Review the Metrics Table in the "Award Criteria" section and ensure the nomination adheres to the suggested formats when communicating metrics.
For questions about the nomination process, or assistance in compiling your nomination please contact the Indiana Governor's Awards for Environmental Excellence.
The nomination packet should include:
A completed GAEE Nomination Form
Four photos of the project with explanations, preferably in a PowerPoint
Any supplemental material(s).
Submit one (1) copy of the nomination packet by U.S. Mail, email, or hand delivery to the Office of Program Support. Nominations must be received by IDEM no later than 5:00 PM EST on the first Monday of March.
Once submitted, if you do not receive confirmation of receipt, please contact the Office of Program Support.
Recent GAEE Winners
For more than 25 years, the Indiana Department of Environmental Management has awarded the GAEE. Read about the award-winning projects below:
2022 Award Winners:
Energy Efficiency/ Renewable Resources

Bendix CVS Huntington IN Solar PV System
Bendix Commercial Vehicle Systems, LLC, Huntington IN
Bendix contracted PSG Energy Group to design and implement their first ever on-site solar project at the Huntington manufacturing site. The 1.2 megawatt ground mounted solar array has over 2,600 solar panels and produces 1.5 million kilowatt hours of green electricity – enough to satisfy around 30% of the electricity consumption at Bendix's Huntington Plant #1 and deliver an estimated $140,000 in electric utility savings annually. The installation is the largest on-site solar system in Huntington County. Other sustainability features of the project include a 91.8% landfill diversion of construction waste and an indigenous seed mix that reduces emissions from mowing and pesticides. Bendix's Huntington complex has achieved a series of sustainability milestones since it opened in 1980, including ISO 14001 certification, zero waste to landfill self certification, and energy efficiency initiatives.

Environmental Education and Outreach

STEAM: Success Through Education, Agriculture, and Mentoring
Paramount Schools of Excellence, Indianapolis IN
The Paramount Schools of Excellence STEAM program, which stands for Success Through Education, Agriculture, and Mentoring, teaches sixth through eighth grade students about sustainable farming practices through a summer paid job opportunity at a school farm. In 2021, 46 students participated by monitoring soil health, capturing rain, planting and raising native plants, managing a flock of chickens and a herd of goats, and producing fruits, vegetables, eggs, milk, and cheese. The program has been running for a decade and started with 12 students. Two hundred forty-nine students have participated to date, learning about sustainable farming practices, food accessibility, and minimal impact livestock management. The farm uses two acres of land formally covered with invasive species, trash, and debris. In 2020, they planted 3,000 square feet of pollinator beds on a former parking lot. Through these operations, over the last three years, the farm has harvested over 46,000 servings of vegetables and produced more than 1,500 gallons of milk and 2,000 pounds of cheese. All items harvested or produced through Paramount farms are sold back to the community through weekly farmers markets, at local venues throughout Indianapolis, or donated.

Five Year Continuous Improvement

5 Yeear Continuous Improvement - AstraZeneca Pharmaceuticals
AstraZeneca Mount Vernon Operations, Mt. Vernon IN
As part of their Environmental Management System, AstraZeneca Mount Vernon invested $13.5 million in infrastructure including the installation of a two megawatt solar field, enough to power 300 homes and reduce more than 1,866 metric tons of carbon dioxide annually. AstraZeneca also replaced cooling towers with sphagnum moss to reduce chemical and water use by 1.6 million gallons per year and improved equipment efficiencies by installing LED lights, variable frequency drive motors, high efficiency air handling units and an electric maintenance vehicle fleet. Through these efforts, AstraZeneca achieved a $245,000 monthly reduction in utility costs. Over this same period, the site achieved zero waste to landfill and reduced the generation of waste by over 200 tons per year.

Greening the Government

Indianapolis Public Schools
Indianapolis Public Schools, Indianapolis IN
Indianapolis Public School partnered with Cenergistic to implement a comprehensive behavioral-based energy conservation program throughout the district. The program reduces energy use and increases energy efficiency of buildings and equipment through behavioral and operational practices. The program, which has been implemented in all IPS facilities and grounds from classrooms to auditoriums, kitchens and offices, has led to an energy reduction of nearly 100,000,000 kilowatt hours, a water reduction of 4 million gallons, and saved the district over $3.6 million dollars in 2021.

Land Use/ Conservation

Big Pine Creek Watershed Project
Big Pine Creek Watershed Group, Fowler IN
The Big Pine Creek Watershed Project is a water-quality improvement program focused on preventing nutrient and sedimentary run off. The project covers Benton, Warren, Tippecanoe and White counties. In addition to implementing practices like cover crops, other goals include educating farmers and landowners on the impacts they have on the watershed, as well as raising funds to support this work. Since the program's inception, it has prevented over 110,000 tons of sediment from entering local waterways, hosted 6,500 participants at area events, reached 30% of watershed residents regarding the importance of water quality in the watershed, and raised over $6 million to accomplish this work.

Pollution Prevention

Clear-Coat Elimination Project
Cummins Inc, Columbus IN
Cummins Mid-Range Engine Plant in Columbus specializes in diesel and alternative fuel engines and generators. For 30 years, it washed and painted engines to prevent rust and create brand association. After a two year validation including working with their supplier and customer, Cummins determined painting was no longer needed. The plant eliminated five resource intensive processes including washing with chemicals, painting and using a dry-off and cure oven. The benefits of this project include reductions in air emissions, natural gas usage (by 79%), chemical usage (by 23,500 gallons a year), clear-coat usage (14,000 gallons a year), general waste from masking (plastic caps, acetone rags, paint filters), energy usage (by over 10%), and water usage (12,000 gallons a day).

Recycling/ Reuse

Project Rain Barrel
City of Monticello Partnership with Ball Corp, Monticello IN
The City of Monticello Wastewater Utility developed a rain barrel project to address the cost and concerns of utility customers with the added cost to water their lawns and gardens following the end of allowances for "sprinkler rates." Partnering with Ball Corporation which provided 55 gallon barrels from food-grade soap, the barrels were provided at no cost to customers to collect rainwater to use on lawns and in gardens. The barrels give the community a way to cut costs and use stormwater runoff, preventing it from running into nearby rivers, lakes, and combined sewers. Ninety-five residents have received a free rain barrel.