Summary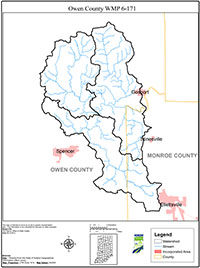 Click to Enlarge
The Owen County Soil and Water Conservation District (SWCD) successfully submitted an application in 2006 for a Clean Water Act Section 319 Grant to develop a Watershed Management Plan (WMP) for the following watersheds in Owen and Monroe Counties: Limestone/Big, Mill/Little Mill, and Fall/McCormick's (HUCs 05120202020010, 05120202020020, and 05120202020030, respectively).
The SWCD Board of Supervisors and staff were motivated to develop this WMP based on the fact that the Indiana Department of Environmental Management (IDEM) 305(b) Report documents that water quality impairments exist in the White River, McCormick's Creek, Fall Creek, and Limestone Creek watersheds. These watersheds are listed on the 303(d) list of impaired water bodies for Impaired Biotic Communities and E. coli levels that exceed the state water quality standard.
While Mill Creek, Little Mill Creek, and Big Creek watersheds are not on the 303(d) list, it is the belief among Owen County residents and the Owen County SWCD that existing land uses as well as ongoing changes to the landscape may contribute to sediment loading and bacteria problems in these watersheds.
In 2006 the IDEM conducted a Total Maximum Daily Load (TMDL) study for E. coli that included sampling points in all of the project watersheds. The purpose of the study was to identify the sources and determine the allowable levels of E. coli bacteria that would result in the attainment of applicable water quality standards. Data collected revealed that E. coli levels routinely exceed the Indiana Administrative Code (IAC) Standard of 235 colony forming units (cfu) per 100 milliliters of sample water.
This WMP combines relevant data, sound economics, resource protection, wise land use principles, future planning, and the ideas of interested individuals. It provides a framework for individuals, government agencies, and resource planners to consider when making land use and water resource decisions in the project watersheds.
The Complete Owen County Watershed Management Plan