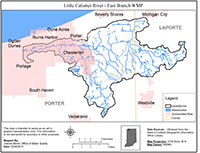 Click to Enlarge
The Little Calumet River - East Branch (LCEB) watershed is located within the Lake Michigan drainage basin. The LCEB is a watershed of interest due to its contribution of nutrients (primarily nitrogen and phosphorus), and potentially dangerous bacteria, Escherichia coli (E. coli), to the Great Lakes basin. A watershed is the area of land where all the water that drains off it goes to the same place. That drainage place is typically a river, a lake, or the ocean. All activities that take place in a watershed can affect the water quality of the surface and ground waters that drain it. Activities such as building construction, driving cars and trucks, growing crops, and fertilizing lawns can affect local water quality and the natural biological communities that live in our surface waters. A healthy watershed is essential for healthy waterways, enhancing the quality of life in our communities and supporting our local economies. Watershed planning is an important tool for helping communities come together to decide the best ways to preserve ecosystem functions, prevent and/or limit water quality impairments, and promote long-term environmental and economic health.
Save the Dunes is a non-profit organization whose mission is to preserve, protect and restore the Indiana Dunes and all natural resources of northwest Indiana's Lake Michigan watershed for an enhanced quality of life. Save the Dunes has coordinated successful watershed planning and implementation efforts in the adjacent Salt and Dunes Creek watersheds. The LCEB watershed is of particular importance to Save the Dunes because a significant stretch of the river flows through the Indiana Dunes National Lakeshore (INDU). The organization also recognizes that as a major tributary to Lake Michigan, the LCEB has a large impact on Lake Michigan water quality and northwest Indiana's beaches.
Development of the LCEB WMP was funded in part through a Section 319 grant from IDEM. Public outreach associated with plan development was funded in part through a grant from the Indiana Department of Natural Resources (IDNR) Lake Michigan Coastal Program. IDEM's Watershed Assessment and Planning Branch conducted monthly watershed sampling. Save the Dunes partnered with Great Lakes Innovative Stewardship Through Education Network (GLISTEN) to have Indiana University Northwest (IUN) and Valparaiso University students conduct weekly sampling during the summer recreational period of 2012. A donation from a private donor was used to fund additional weekly sampling.
The Complete Little Calumet River - East Branch WMP