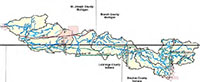 Click to Enlarge
Summary
The Fawn River watershed is a 10-digit Hydrologic Unit Code (HUC 0405000108) watershed located within the greater St. Joseph River – Lake Michigan watershed (HUC 04050001). The watershed encompasses parts of Steuben and LaGrange Counties in northeast Indiana and Branch and St. Joseph Counties in southwest Michigan, totaling 165,361 acres of land including over 70 lakes. The Fawn River drainage begins in Steuben County at Fish Lake, north of the town of Fremont, and flows in and out of four counties and two states, through many large and small lake systems, eventually emptying into the St. Joseph River, north of the town of Constantine, Michigan.
Agriculture is the major land use in the watershed including food production such as seed corn, green beans, beets, and potatoes, as well as livestock operations. These land uses have an impact on water quality in the watershed. Several urban areas also influence the water quality including the city of Angola and the towns of Fremont, Howe, and Orland in Indiana, and a majority of the town of Sturgis in Michigan. Several stream segments in the Fawn River watershed are included on IDEM's 2012 303(d) List of Impaired Waterbodies for E. coli and impaired biotic communities.
The LaGrange County and the Steuben County Soil and Water Conservation Districts (SWCDs) met with several local organizations and agencies to collaborate on a project to write a watershed management plan (WMP) for the Fawn River watershed in order to develop an implementation plan to delist the impaired waterways from the IDEM 303(d) list. A collaborative effort between the LaGrange County and Steuben County SWCDs, Branch County and St. Joseph County Conservation Districts, The Nature Conservancy, Pheasants Forever, LaGrange and Steuben County Lakes Councils, Indiana Department of Natural Resources, Friends of the St. Joe, the St. Joseph River Basin Commission, and many other organizations led to an application for funding to IDEM for Section 319 funds in September 2011. The application was passed to the Section 205(j) grant program and approved for funding. The Fawn River Watershed project began in January 2013, and the final Fawn River WMP was approved in February 2016.
The Complete Fawn River Watershed Management Plan