Summary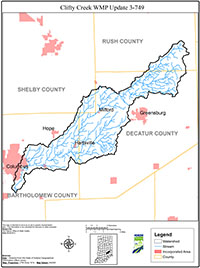 Click to Enlarge
Based on information gathered by the Watershed Project Steering Committee an increased occurrence of urban/suburban runoff, E. coli, pesticide, nutrient, and sediment levels, as well as continued illegal dumping to be primary sources of water quality degradation in the
Clifty Creek, threatening the health of the creek and its recreational value was identified.
It was the belief of the Committee that these contaminants continue to influence tributaries and main stem portions of Clifty Creek due to:
Minimal public awareness regarding water quality issues and influences, including a general lack of communication between urban/suburban and rural communities;
Nonpoint Source runoff from agricultural and urban/suburban related practices, including stream bank erosion, unrestricted livestock access, waste management, impervious surface runoff, nutrient/pest application (urban and agricultural), and household hazardous waste disposal;
Concentrated sources of E. coli contamination, including failing or poorly maintained residential septic systems, manure runoff, and unrestricted livestock access to streams;
The need for convenient recycling/waste disposal options throughout the region; and,
Absence of a continuous wooded corridor along main stem segments and primary contributing tributaries.
In response to the identified problems, the Committee outlined the following goals for water quality improvement:
Runoff and Nonpoint Source Pollution due to a lack of public awareness.
Sedimentation and erosion due to exposed soil and degrading stream banks.
Biological and chemical contaminant infiltration in streams.
These goals provide direction for specific objectives and action items identified in this plan for the improvement of water quality in the Clifty Creek Watershed. Implementation of the ideas outlined in this pan have already begun, and the Committee will utilize funds from a 2-year Section 319 Clean Water grant to install conservation practices, support educational programming, and improve overall project quality.
The Complete Clifty Creek Watershed Management Plan