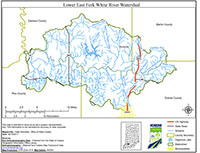 Click to Enlarge
Location
The Lower East Fork White River Watershed covers 207 square miles in Southwest Indiana and is located primarily in Daviess, Pike, Martin, and Dubois counties. The primary bodies of water included in the Total Maximum Daily Load (TMDL) report are Mud Creek, Aikman Creek, Bear Creek, Dogwood Lake, Sugar Creek, Birch Creek, Mill Creek, Slate Creek, and Hoffman Run.
History
Surveys of the Lower East Fork White River Watershed were conducted in 1986, 1993, 1996, 1997, 2002, 2007, 2012, and 2013 which includes probabilistic, targeted, and fish tissue programs. Impairments in the watershed include E. coli, PCBs, dissolved oxygen (DO), and impaired biotic communities (IBC). Potential pollution sources in the watershed include nonpoint sources from agriculture lands and pastures, rural run-off, as well as point sources from straight pipe discharges, and home sewage treatment system disposal.
Parameters Addressed
IDEM completed a comprehensive sampling program in the watershed that was based on the current impairments. A total of 17 sites were assessed for general chemistry, nutrients, habitat, and fish and macroinvertebrate communities. For a comprehensive list of all parameters, please reference the approved work plan. The final TMDL report addressed E. coli, Impaired Biotic Communities, Nutrients, and Dissolved Oxygen impairments in the watershed.
Timeline
A public kickoff meeting was held to introduce the project and solicit input on October 23, 2017 at 4:00PM (EST) at the St. Paul's Lutheran Church, 556 W Haysville Rd, Jasper, IN 47546.
A project field day open to the public was held on October 23, 2018 in Haysville, IN to demonstrate sampling protocols and discuss preliminary results of the comprehensive sampling program.
A public meeting on the draft TMDL report was held on November 12, 2019 in Jasper, IN.
A 30-day public comment period for the draft final TMDL report lasted from November 8, 2019 – December 8, 2019.
The Lower East Fork White River Watershed TMDL was approved on December 19, 2019.
The TMDL Report
Watershed Characterization Monitoring 2017-2018
Supplemental Information