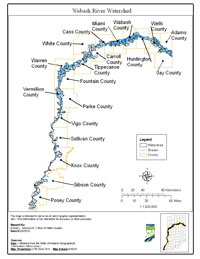 Click to Enlarge
About the Watershed
Location
The Wabash River Watershed is located in Indiana, draining approximately 1438 square miles in multiple counties. Major streams included in the Total Maximum Daily Load (TMDL) report are the Wabash River.
History
Data were collected from the following organizations and agencies for analysis of the Wabash River TMDL:
Bluffton Wastewater Treatment Facility
Clinton Stream Reach Characterization Evaluation Report (SRCER)
Indiana Department of Natural Resources (DNR) Lake and Reservoir Enhancement (LARE) Study
Huntington
Indiana Department of Environmental Management (IDEM)
Illinois EPA
Lafayette SRCER
North Manchester SRCER
Peru SRCER
Portland SRCER
Redkey Wastewater Treatment Plant
Hoosier Riverwatch
Rock Creek Conservation District
Sullivan SRCER
Tippecanoe County Health Department
U.S. Geological Survey (USGS)
Veedersburg Wastewater Treatment Plant
West Lafayette Wastewater Treatment Plant
City of Decatur
City of Lafayette
City of Mount Vernon
City of Portland
City of Peru
City of Huntington
The primary cause of impairment is Escherichia coli bacteria (E. coli) and nutrients. Pollution sources in the watershed include nonpoint sources from agriculture and pastures, land application of manure and urban and rural run-off, as well as point sources from straight pipe discharges, home sewage treatment system disposal and combined sewer overflow outlets.
Pollutants Addressed
TMDLs for the Wabash River Watershed are established for E. coli and nutrients and will address 162 impairments. Some of the recommended solutions to address the impairments include storm water controls, point source controls, manure management and habitat improvements.
Timeline
Kickoff TMDL meetings were held at the following locations:
Poseyville Community Center

60 N. Church St., Poseyville IN
Jan 26th, 2006, 6:00 PM

Wells County Government Annex

223 W Washington, Bluffton IN
Jan 31st, 2006, 6:00 PM

Logansport-Cass County Public Library

616 E Broadway, Logansport IN
Feb 1st, 2006, 1:00 PM

Grandstaff-Hentgen Community Hall

1241 Manchester Ave., Wabash IN
Feb 1st, 2006, 6:00 PM

Vigo County Public Library

One Library Square, Terre Haute IN
Feb 9th, 2006, 1:00 PM

Vincennes City Council Chambers

201 Vigo St., Vincennes IN
Feb 9th, 2006, 6:00 PM
Draft TMDL meetings were held at the following locations:
Huntington Public Library

200 W. Market Street, Huntington IN
July 11th, 2006, 6:00 PM

Ivy Tech

3101 S. Creasy Lane, Rms. 1112 & 1114, Lafayette IN
July 12th, 2006, 10:00 AM
The 30-day public comment period for the draft Wabash River Watershed TMDL began on July 11, 2006 and ended on August 11, 2006.
U.S. EPA under Section 303(d) of the Clean Water Act approved the Wabash River Watershed TMDL report on September 22, 2006 for 162 impairments. TMDL reports identify and evaluate water quality problems in impaired water bodies and propose solutions to bring those waters into attainment with water quality standards.
The TMDL Report
Supplemental Information