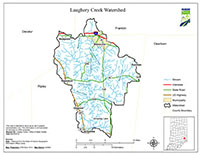 Click to Enlarge
Location
The Laughery Creek Watershed covers 167 square miles in Southeast Indiana and is located primarily in Ripley, Decatur, and Franklin counties. The seven subwatersheds included in the Total Maximum Daily Load (TMDL) report are Tub Creek, Little Laughery Creek, Walnut Creek, North Branch, Headwaters Ripley Creek, Jericho Creek, and Henderson Bend.
History
Surveys of the Laughery Creek Watershed have been conducted as far back as 1985, for fish tissue monitoring. Fixed station monitoring has been conducted in the watershed since 1998 and more extensive surveys of the watershed were conducted in 2000, 2005, 2010, 2011, and 2017 by both the probabilistic and targeted monitoring programs. Impairments in the watershed include E. coli, dissolved oxygen (DO), biological communities, and nutrients. Potential pollution sources in the watershed include nonpoint sources from agricultural lands and pastures, rural run-off, wildlife, as well as point sources from straight pipe discharges and home sewage treatment systems.
Parameters Addressed
IDEM completed a comprehensive sampling program in the watershed that was based on the current impairments. A total of 24 sites were assessed for general chemistry, nutrients, habitat, and fish and macroinvertebrate communities. A comprehensive list of all parameters is referenced in the approved work plan. The final TMDL report addresses E. coli, IBC, nutrients, and DO impairments in the watershed.
Timeline
A public kickoff meeting was held to introduce the project and solicit input on October 30, 2018 at 6:00PM (EST) at Ivy Tech in Batesville.
A Water Monitoring Demonstration Day for this project was held on October 23, 2019 from 4:00 - 6:00 PM at Versailles State Park.
A public meeting on the draft TMDL report was held virtually on July 15, 2020 from 2:00 PM to 4:00 PM (EDT). Representatives from IDEM presented findings on the draft report and were available to answer questions.
A 30-day public comment period for the draft final TMDL report lasted from July 8, 2020 – August 8, 2020. No comments were received.
The final TMDL report was approved by U.S. EPA on September 2, 2020.
The TMDL Report
Watershed Characterization Monitoring 2018-2019
Supplemental Information