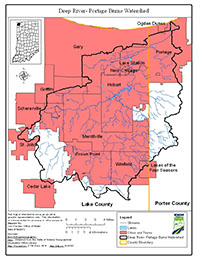 Click to Enlarge
Location
The Deep River–Portage Burns Watershed is located in northwestern Indiana, draining approximately 180 square miles from Lake and Porter counties into Lake Michigan. Major waterbodies included in the Total Maximum Daily Load (TMDL) report are Deep River, Deer Creek, Duck Creek, Lake George, Main Beaver Dam Ditch, Niles Ditch, Smith Ditch, Sprout Ditch, Turkey Creek, Burns Ditch, and Willow Creek.
History
A preliminary survey of the Deep River-Portage Burns Watershed was conducted by Indiana Department of Environmental Management (IDEM) in 2010 through its probabilistic sampling program. Impairments include dissolved oxygen, E. coli, biotic communities, PCB in fish, total mercury, and siltation. Potential pollution sources in the watershed include nonpoint sources from agriculture and pastures, land application of manure and urban and rural run-off, as well as point sources from straight pipe discharges, home sewage treatment system disposal, municipal separate storm sewer system communities, and combined sewer overflow outlets.
Parameters Addressed
IDEM completed a comprehensive sampling program in the watershed that was based on the current impairments. A total of 35 sites were assessed for general chemistry, nutrients, habitat, fish and macroinvertebrate communities, and stream flow. For a comprehensive list of all parameters please reference the approved work plan.
Timeline
Two TMDL public kickoff meetings were held on March 13, 2013. The first meeting was held at 2:00 PM (CDT) at the Lake County SWCD & Extension Offices, 880 E. 99th Ct., Suite A, Crown Point, IN 46307. The second kickoff meeting was held at 6:00 PM (CDT) at the Portage Lakefront and Riverwalk, Riverwalk Drive Portage, IN 46368. Both meetings covered the same topics.
A Deep River Monitoring Field Day was held on October 23, 2013 from 1:00 PM - 3:00 PM (CDT). The event was held at Deep River County Park, 9410 Old Lincoln Highway, Hobart, Indiana 46342. At this event, participants learned more about sampling methods from IDEM, USGS, and Hoosier Riverwatch staff. Field procedures for fish & macroinvertebrate collection, habitat assessment and water chemistry were demonstrated. The Deep River TMDL Interim Public meeting was held on December 5, 2013 from 1:00 PM - 3:00 PM (CST). This meeting was held at the Lake County Soil and Water Conservation District, 880 E. 99th Ct, Suite A, Crown Point, Indiana 46307. At this meeting IDEM staff discussed the 2013 recreation sampling season and results. IDEM staff were also available to address any questions the public had regarding the TMDL process to date.
The Draft TMDL Meeting was held July 14, 2014 at 2:00 PM. The meeting was held at Hobart Community Center, 111 E. Old Ridge Rd., Hobart, IN 46342.
The 30-day public comment period lasted from July 14, 2014 to August 14, 2014.
Subsequent to its approval, inaccuracies in the final report were discovered by IDEM, who informed U.S. EPA in December 2017. IDEM explained that it had mischaracterized how bacteria TMDLs in the final Deep River-Portage Burns Watershed TMDL report were calculated. A memorandum from IDEM and revised decision document from U.S. EPA were issued as a result.
The TMDL Report
Baseline Project 2013-2014
Supplemental Information