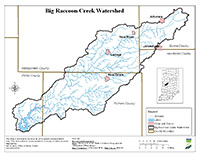 Click to Enlarge
Location
The Big Raccoon Creek watershed is located in west-central Indiana and drains a total of 215 square miles. The Big Raccoon Creek originates near New Ross, and then flows southwest through the town of Ladoga where it ultimately empties into the Cecil M. Harden Lake near Portland Mills. The watershed is located in Boone, Hendricks, Montgomery, Putnam and Parke Counties. Major streams included in the Total Maximum Daily Load (TMDL) report are Big Raccoon Creek, Little Raccoon Creek, Ramp Creek, Cornstalk Creek, Haw Creek and Byrd Branch.
History
A comprehensive survey of the Big Raccoon Creek was conducted by the Indiana Department of Environmental Management (IDEM) in 2010 to address E. coli. Additional fish community and nutrient data from a 2005 IDEM survey was also used in the assessment of the watershed. Nonpoint source pollution is the primary pollution type addressed in the document because land-use in the watershed is largely agriculture.
Pollutants Addressed
TMDL reports identify and evaluate water quality problems in impaired water bodies and propose solutions to bring those waters into attainment with water quality standards. The Big Raccoon Creek watershed has impaired stream segments on the 303(d) list of impaired waters for E. coli and impaired biological communities (IBC), both of which are addressed in the document. Some of the recommended solutions to address the impairments include habitat and riparian improvement, livestock fencing to keep them out of streams, and cover crops to prevent soil and nutrient loss from agricultural fields. The final report developed 53 E. coli TMDLs to address bacteria impairments. Additionally, two TMDLs for total phosphorus and one for total suspended solids were developed to address impaired biological communities in the watershed.
Timeline
A draft TMDL meeting was held on June 26, 2013 at 6:00 PM. The public meeting was held at the Bainbridge Community Building located at 201 North Grant Avenue, Bainbridge, Indiana. The TMDL program was described and an overview of the document was presented.
After the meeting a 30 day comment period was held from June 26, 2013 to July 26, 2013.
Subsequent to its approval, inaccuracies in the final report were discovered by IDEM, who informed U.S. EPA in December 2017. IDEM explained that it had mischaracterized how bacteria TMDLs in the final Big Raccoon Creek Watershed TMDL report were calculated. A memorandum from IDEM and revised decision document from U.S. EPA were issued as a result.
The TMDL Report:
Supplemental Information