Main Content
Dunes Creek WMP 3-750
Summary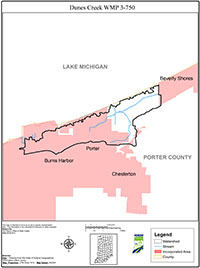 Click to Enlarge
The Dunes Creek Watershed Management Plan serves as a framework for achieving the following vision of a healthy Dunes Creek watershed ecosystem that supports species diversity, protects Lake Michigan water quality, and improves the quality of life in Porter County, while maintaining the important social, economic, and recreational uses of the area.
High levels of Escherichia coli (E. coli) in the waters of the creek and the surrounding area of its confluence into Lake Michigan is the primary watershed impairment affecting quality of life in Porter County. E. coli is used to indicate fecal contamination and the potential presence of other pathogens. Lake Michigan beaches are tested regularly to determine the levels of E. coli present. When the amount of E. coli exceeds the state standard, beaches must be closed to protect public health. Such closures, which occur regularly at the Indiana Dunes State Park, substantially limit resident and visitor recreation opportunities and adversely affect economic activity in Porter County. This plan addresses the elimination or reduction of the Dunes Creek E. coli water quality problem, which will reduce beach closures at the Indiana Dunes State Park and contribute to an improved quality of life for Porter County residents and visitors.
The Dunes Creek Steering Committee includes representatives from the Indiana Dunes National Lakeshore, Indiana Department of Natural Resources, United States Geological Survey, ArcelorMittal USA (formerly International Steel Group), Northwestern Indiana Regional Planning Commission, U.S. Fish and Wildlife Service, and many other entities. The plan was developed by the Steering Committee with regular input from the public and support from Save the Dunes Conservation Fund's watershed coordinator, Christine Livingston.
This WMP addresses nonpoint sources of pollution by documenting current water quality and biological integrity and making recommendations for improving water quality. In addition to covering pollution prevention and remediation, the recommendations include restoration activities.
To reduce the identified stressors in the Dunes Creek watershed and address other concerns identified by the Steering Committee and stakeholders, the Steering Committee developed the following goals:
Goal 1: Reduce nutrient and sediment by 20% by 2016.
Goal 2: Reduce pathogen concentrations to meet the state standard by 2016.
Goal 3: Improve stakeholder and public involvement.
Goal 4: Improve biotic communities by 2016 so that they are partially supporting.
Goal 5: Reduce TDS and chloride concentrations to meet Indiana State Standard.
The Complete Dunes Creek Watershed Management Plan