Main Content
Laughery Creek (Southern) WMP 3-748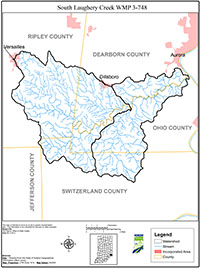 Click to Enlarge
Summary
In the spring of 1999, the Dearborn and Ohio County Soil and Water Conservation Districts (SWCD) entered into a joint venture to do water testing on lower Laughery Creek. Test results revealed high E. coli levels during periods of high water flow. Action steps were taken by the Dearborn County SWCD to further investigate and secure funding to study the South Laughery Creek Watershed.
The Dearborn Co. SWCD successfully submitted an application in the fall of 2002 to the Indiana Department of Environmental Management for a Clean Water Act Section 319 grant to engage in a two-year assessment study of the South Laughery Creek Watershed.
In the fall of 2003, the Delaware Co. SWCD was awarded the 319 grant and began the assessment phase of the program. The first stage of the program was to identify water quality, land use, and natural resource characteristics within the watershed. This project was designed to involve stakeholders while trying to identify threats to local water quality resources, developing strategies to protect these resources, and providing an examination of issues and concerns facing residents within the watershed. This living document may be used as a guide by local decision makers, partners, and educators for implementation purposes, and any type of assistance efforts.
This project resulted in part from a long range plan developed by the Delaware Co. SWCD in 1996. During the long range planning process, this SWCD identified natural resource assessment of various watersheds within the county as a priority. Southern Laughery Creek was the second watershed to be studied in Dearborn Co. It was chosen for study due to increasing urban development, an opportunity to increase no-till acres, and elevated levels of fecal coliform during high flow periods as reported in a study completed in 1996 by the Delaware and Ohio County SWCDs.
The Complete South Laughery Creek Watershed Management Plan