Main Content
White River Lambs Creek WMP 00-216
Summary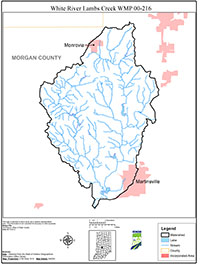 Click to Enlarge
In July of 2001, the Morgan County Soil and Water Conservation District (SWCD) entered into a contractual agreement with the Indiana Department of Environmental Management (IDEM). The purpose of the agreement was to hire a watershed coordinator, engage the public in water quality prioritization and planning, and develop a watershed management plan (WMP) based upon research, public input, and public priorities.
The agreement between the SWCD and IDEM was the result of a grant application prepared and submitted by the SWCD under the Section 319 program which focuses on nonpoint source water pollution. The agreement called for 24 months of public coordination, research, and plan writing for a 52,438-acre watershed that ultimately drains to the Upper West Fork of the White River in the north central part of Morgan County. The contract became effective in May of 2001.
Between May and September of 2001, the SWCD held the first of 8 quarterly stakeholder meetings (public meetings). Over 50 people attended the first meeting, which was held at Bradford Woods. A great deal of interest was generated at this meeting, and the NRCS representatives who attended the meeting recommended that four watershed committees be developed at that time. These committees included Education and Outreach, Land Use, Technical, and Steering. The role of the Steering committee was to coordinate and consolidate research and planning efforts of the other three committees. Another recommendation was for each of these committees to hold monthly meetings, in addition to the 8 quarterly stakeholder meetings described in the contract.
In September of 2001, the SWCD chose to hire contract personnel to serve the role of watershed coordinator. The SWCD entered into a sub-contractual agreement with a professional environmental staffing company, Goode & Associates, Inc., whose specialty is water quality management, policy analysis, and watershed coordination. This subcontract allowed for 20 months of coordination, meeting facilitation, water quality field sampling, map preparation, and various related coordination and management services. Goode & Associates, Inc. provided a "Coordination Team" consisting of a land use planner, a biologist/water quality chemist, an agricultural specialist, a local government policy and regulatory specialist, and a Geographical Information Systems (GIS) mapping and database specialist.
This WMP represents the overall watershed analysis and inventory prepared by the watershed coordination team with consistent input from committee members and the public, and the recommendations for water quality improvement and protection that resulted from such efforts.
The Complete White River Lambs Creek Watershed Management Plan
White River - Lambs Creek WMP: