The Indiana Department of Environmental Management offers a wide range of dynamic careers in a variety of divisions and energized environments. IDEM employees enjoy competitive pay and benefits, and the satisfaction of doing work that helps to protect Hoosiers and the environment. We invite you to explore and discover exciting and fulfilling career opportunities within IDEM.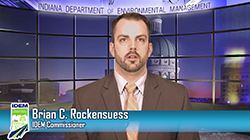 Welcome to IDEM
A Message from Commissioner Brian C. Rockensuess [YouTube]
The State of Indiana is an Equal Opportunity Employer.
Full Time Job Opportunities
IDEM currently has a number of full time positions available. The online process allows applicants to manage searches, upload resumes, and apply to state jobs 24/7. Openings are posted daily.
Internship Opportunities
The IDEM Summer Internship Program offers hands-on work experiences allowing motivated college students to work side by side with government administrators, communicators, and other professionals by observing and exploring how their interests relate to possible careers. IDEM provides a broad range of learning opportunities that can help students make informed decisions about possible career paths.