Office of Air Quality
For assistance with air compliance and enforcement topics, please contact:
Indiana Department of Environmental Management
Office of Air Quality
100 North Senate Avenue, IGCN 1003
Indianapolis, IN 46204-2251
Subject-Specific Contacts
Staff Listing
The Air Compliance and Enforcement Branch in the Indianapolis Central Office and four IDEM Regional Offices coordinate closely to provide consistent compliance oversight and assistance in all 92 counties. Air inspectors in Sections 1, 2, and 3 of the Air Compliance and Enforcement Branch in Indianapolis and Regional Office air inspectors conduct activities including inspections, records and report reviews, and complaint investigations. The Compliance Data Section in Indianapolis oversees stack testing and CEMS/COMS requirements. The following staff listing includes the inspectors' assigned regions from the Air Compliance Inspectors Map and any specific source assignments.

Air Compliance Inspectors
Indianapolis Central Office
Air Compliance and Enforcement Section 1
Air Compliance and Enforcement Section 2
Air Compliance and Enforcement Section 3
IDEM Regional Offices
Northwest Regional Office
Northern Regional Office
Southeast Regional Office
Southwest Regional Office
General IDEM Information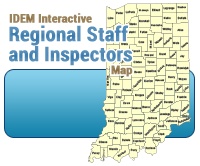 IDEM Interactive Regional Staff and Inspectors Map