August 8 2002 - Northern Boundary of Clark's Grant
Northern Boundary of Clark's Grant (72.2002.5)
Scott County, Indiana
View the annotated text for this marker.
Historical Marker Text:
Northern boundary of Clark's Grant near here. Land grant provided by Virginia 1781 to General George Rogers Clark and his men for American Revolutionary War service against British in Illinois country. Grant was 150,000 acres divided into 298 lots of approximately 500 acres, with 1,000 acres reserved for town.
MAP ON SIDE TWO WITH GRANT BOUNDARIES OVER CURRENT COUNTY BOUNDARIES
Clarksville, first American settlement northwest of the Ohio River (1784), located at southwestern corner of grant. This marker (*) is located in Tract No. 296.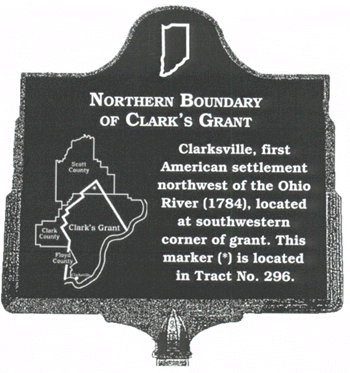 Marker dedication August 8, 2002