August 13 2005 - Nappanee Cartoonists
Nappanee Cartoonists (20.2005.1)
Nappanee Furniture (20.2005.2)
Nappanee
Elkhart County, Indiana
View the annotated text for Nappanee Cartoonists.
View the annotated text for Nappanee Furniture.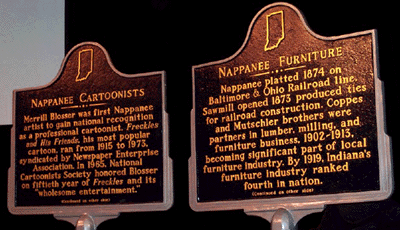 The Nappanee Cartoonists and Nappanee Furniture historical markers were dedicated at the Amish Acres Arts & Crafts Festival on August 13, 2005. The Cartoonists marker is located at 57 North Main Street, Nappanee, and the Furniture marker is located at 452 East Market Street, Nappanee.
Ervin Beck, Elkhart County Historical Society, and Linda Yoder, Nappanee Public Library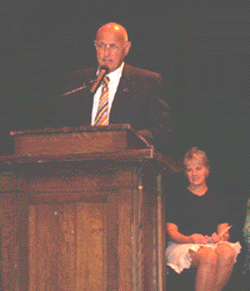 Indiana State Senator Marvin Riegsecker
Brian McDonald, great-grandson of Frank Coppes and Margaret Mutschler Armantrout, granddaughter of Albert Mutschler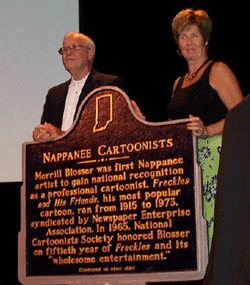 Cartoonist Max Gwin and Portia Musgrave, granddaughter of Albert Mutschler and niece of Francis Parks
Nappanee Cartoonists marker text:
Side 1:
Merrill Blosser was first Nappanee artist to gain national recognition as a professional cartoonist. Freckles and His Friends, his most popular cartoon, ran from 1915 to 1973, syndicated by Newspaper Enterprise Association. In 1965, National Cartoonists Society honored Blosser on fiftieth year of Freckles and its "wholesome entertainment."
Side 2:
Five other Nappanee artists became nationally recognized cartoonists. Henry Maust and Francis "Mike" Parks drew newspaper editorial cartoons; Bill Holman's best was Smokey Stover (1935-1973); Fred Neher's Life's Like That ran 1934-1977; Max Gwin drew Slim and Spud for Prairie Farmer 1955-1991. Town, training, and careers connected these artists.
Nappanee Furniture marker text:
Side 1:
Nappanee platted 1874 on Baltimore & Ohio Railroad line. Sawmill opened 1873 produced ties for railroad construction. Coppes and Mutschler brothers were partners in lumber, milling, and furniture business, 1902-1913, becoming significant part of local furniture industry. By 1919, Indiana's furniture industry ranked fourth in nation.
Side 2:
As separate companies, Coppes focused on kitchen cabinets and sideboards, the sawmill and flour mill, and Mutschler on manufactured tables and porcelain top kitchen tables. Coppes and Mutschler families continued to manage the companies, adapting to changing times. In 1969, outside corporations acquired both companies, ending local ownership.