April 13 2002 - William Bratton
William Bratton, Lewis & Clark Expedition Member (54.2002.1)
Old Pioneer Cemetery, Waynetown
Montgomery County, Indiana
View the annotated text for this marker.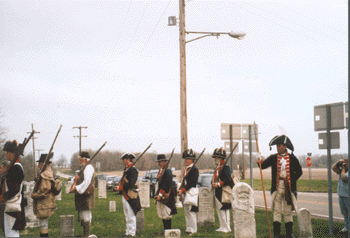 Honor guard salute at William Bratton marker dedication, April 13, 2002.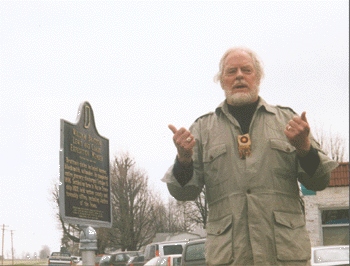 James Alexander Thom, author and lecturer at William Bratton marker dedication, April 13, 2002.
Historical Marker text
Bratton (1778-1841) is buried in this cemetery. With U.S. Army rank of private, he joined Lewis and Clark Expedition's Corps of Discovery near Clarksville, Indiana 1803. Corps explored lands of Louisiana Purchase and Pacific Northwest.
Bratton's duties included hunter, blacksmith, saltmaker. He completed entire journey; discharged October 10, 1806. Settled on farm in Wayne Township 1822; held various county and township offices, including Justice of the Peace.
William Bratton's letter of discharge
William Bratton's letter of discharge from the army signed by Meriwether Lewis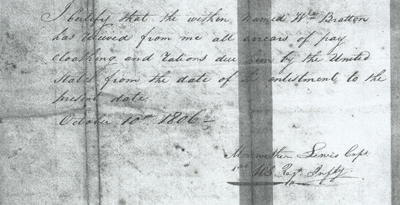 Transcription of above letter
To all whom it may concern
Know ye, that the bearer hereof William Bratton, private in the corps distined for the descovery of the interior of the continent of North America, having faithfully discharged his duty in said capacity so long as his services have been necessary to complete the objects of a Voyage to the Pacific Ocean, is in virtue of the Authority vested in me by the President of the United States hereby discharged from the military service of the said States; and as a tribute justly due the merits of the said Willm Bratton, I with cheerfullness declare that the ample support which he gave me under every difficulty, the manly firmness which he evinced on every necessary occation, and the fortitude with which he boar the fatigues and painfull sufferings incident to that long voyage, entitles him to my highest confidence and sincere thanks, while it eminently recommends him to the consideration and respect of his fellow Citizens
[signed] Meriwether Lewis Capt.
1st US. Regt. Infty
I certify that the within named Wm. Bratton has received from me all arrears of pay clothing and rations due him by the United States from the date of his enlistment to the present date.
October 10th 1806
[signed] Meriwether Lewis Capt.
1st US. Regt. Infty
William Bratton's Grave Stone
William Bratton's grave stone with War of 1812 insignia.
Photographed September 1999 by E. Colleen Duncan
at Old Pioneer Cemetery, Waynetown, Indiana.