Site of William Hayden English Home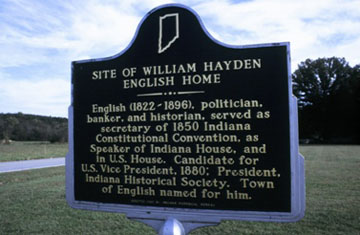 Location: SR 203, north edge of Lexington, west side of highway at drive entrance, Englishton Park, Lexington. (Scott County, Indiana)
Erected 1992 by Indiana Historical Bureau
ID# : 72.1992.1
Marker Review Report: Learn more here.
Visit the Indiana History Blog to learn about English's vice-presidential aspirations, business ventures, and attempt to quell antebellum unrest in Kansas.
Text
English (1822-1896), politician, banker, and historian, served as secretary of 1850 Indiana Constitutional Convention, as Speaker of Indiana House, and in U.S. House. Candidate for U.S. Vice President, 1880; President, Indiana Historical Society. Town of English named for him.
Keywords
Politics, Arts and Culture