Major General Lew Wallace 1827-1905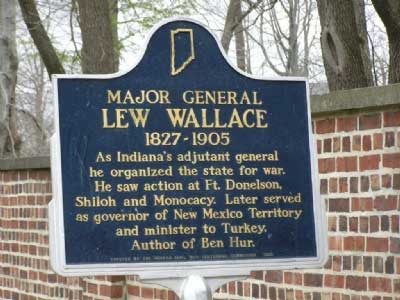 Location: 501 Pike Street & Wallace Avenue, Crawfordsville. (Montgomery County, Indiana)
Erected by the Indiana Civil War Centennial Commission, 1963
ID# : 54.1963.1
Marker Review Report: Learn more here. See also marker 23.1970.2 Esther Test Wallace and 49.2004.4 Zerelda Wallace.
Visit the Indiana History Blog to learn about the 1902 stage play of Ben-Hur at Indianapolis's English Theater; how freethinker Robert Ingersoll influenced his writing of the Christian epic; and the influential writing of his wife, Susan Wallace.
Text
As Indiana's adjutant general he organized the state for war. He saw action at Ft. Donelson, Shiloh and Monocacy. Later served as governor of New Mexico Territory and minister to Turkey. Author of Ben Hur.
Keywords
Military, Arts and Culture