Leora Brown School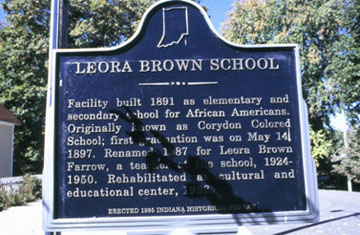 Location: 400 E. Summit Street near Hill Street, Corydon. (Harrison County, Indiana)
Erected 1995 Indiana Historical Bureau.
ID# : 31.1995.1
Marker Review Report: Learn more here.
Text
Facility built 1891 as elementary and secondary school for African Americans. Originally known as Corydon Colored School; first graduation was on May 14, 1897. Renamed 1987 for Leora Brown Farrow, a teacher at the school, 1924-1950. Rehabilitated as cultural and educational center, 1993.
Keywords
African American, Education