Jonathan Jennings 1784-1834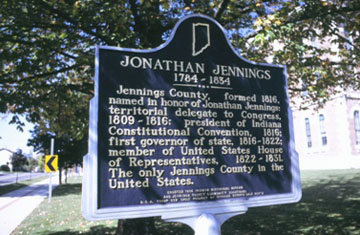 Location: South corner of Courthouse Square, SR 7 & SR 3, Vernon. (Jennings County, Indiana)
Erected 1995 Indiana Historical Bureau and Jennings County Community donations; B.S.A. Troop 532 Eagle Project by Charles Edward Dale Bentz.
ID# : 40.1995.1
See also marker 10.1966.1 Grave of Jonathan Jennings (1784-1834).
Visit the Indiana History Blog to learn more about Jennings.
Text
Jennings County, formed 1816, named in honor of Jonathan Jennings: territorial delegate to Congress, 1809-1816; president of Indiana Constitutional Convention, 1816; first governor of state, 1816-1822; member of United States House of Representatives, 1822-1831. The only Jennings County in the United States.
Keywords
Politics