Indianapolis Motor Speedway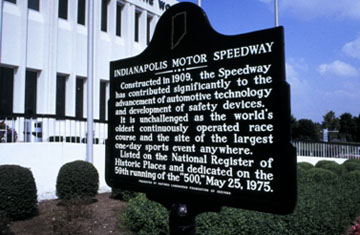 Location: 4790 W. 16th Street at Indianapolis Motor Speedway Hall of Fame Museum, Indianapolis. (Marion County, Indiana)
Presented by Historic Landmarks Foundation of Indiana
ID# : 49.1975.2
Marker Review Report: Learn more here.
Visit the Indiana History Blog to learn about how the Speedway became an aviation hub during World War I and World War II.
Text
Constructed in 1909, the Speedway has contributed significantly to the advancement of automotive technology and development of safety devices. It is unchallenged as the world's oldest continuously operated race course and the site of the largest one-day sports event anywhere. Listed on the National Register of Historic Places and dedicated on the 59th running of the "500, " May 25, 1975.
Keywords
Sports, Special Events, Science, Medicine, and Inventions