Grave of Jonathan Jennings (1784-1834) (Two blocks east)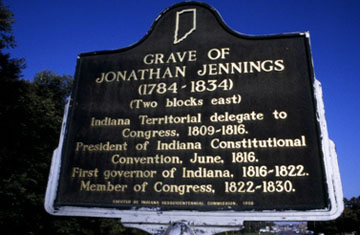 Location: Market/SR 3 at Pleasant Street, Charlestown. (Clark County, Indiana)
Erected by Indiana Sesquicentennial Commission, 1966.
ID#: 10.1966.1
Marker Review Report: Learn more here. See also marker Jonathan Jennings 1784-1834 40.1995.1.
Visit the Indiana History Blog to learn more about Jennings.
Text
Indiana Territorial Delegate to Congress, 1809-1816. President of Indiana Constitutional Convention, June, 1816. First Governor of Indiana, 1816-1822. Member of Congress, 1822-1830.
Keywords
Politics