Eagle Cotton Mill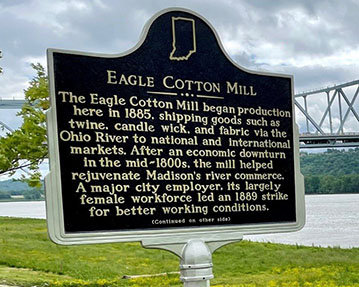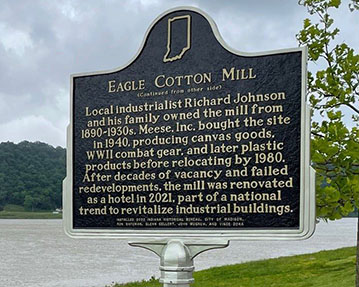 Location: 108 St. Michaels Ave., Madison (Jefferson County), Indiana 47250.
Installed 2022 Indiana Historical Bureau, City of Madison, Ron Bateman, Glenn Gellert, John McGrew, and Vince Dora
ID#: 39.2022.1
Text
Side One
The Eagle Cotton Mill began production here in 1885, shipping goods such as twine, candle wick, and fabric via the Ohio River to national and international markets. After an economic downturn in the mid-1800s, the mill helped rejuvenate Madison's river commerce. A major city employer, its largely female workforce led an 1889 strike for better working conditions.
Side Two
Local industrialist Richard Johnson and his family owned the mill from 1890-1930s. Meese, Inc. bought the site in 1940, producing canvas goods, WWII combat gear, and later plastic products before relocating by 1980. After decades of vacancy and failed redevelopments, the mill was renovated as a hotel in 2021, part of a national trend to revitalize industrial buildings.
Keywords
Business, Industry, & Labor; Buildings & Architecture; Women