Dr. Amelia Keller, 1871-1943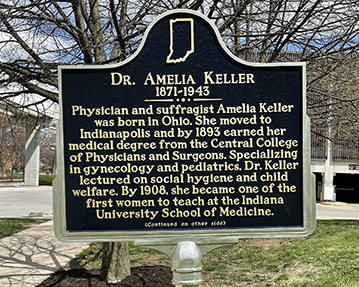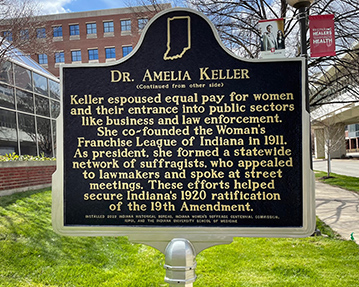 Location: Near the IUPUI Medical Library, 988 W. Walnut St., Indianapolis (Marion County), Indiana 46202
Installed 2022 Indiana Historical Bureau, Indiana Women's Suffrage Centennial Commission, IUPUI, and the Indiana University School of Medicine
ID#: 49.2022.1
Learn more about Keller's work with the Woman's Franchise League and Indiana Suffragists' 1913 March to the Statehouse on the Indiana History Blog.
Text
Side One
Physician and suffragist Amelia Keller was born in Ohio. She moved to Indianapolis and by 1893 earned her medical degree from the Central College of Physicians and Surgeons. Specializing in gynecology and pediatrics, Dr. Keller lectured on social hygiene and child welfare. By 1908, she became one of the first women to teach at the Indiana University School of Medicine.
Side Two
Keller espoused equal pay for women and their entrance into public sectors like business and law enforcement. She co-founded the Woman's Franchise League of Indiana in 1911. As president, she formed a statewide network of suffragists, who appealed to lawmakers and spoke at street meetings. These efforts helped secure Indiana's 1920 ratification of the 19th Amendment.
Keywords
Science, Medicine, & Invention; Women; Political