History of Indiana Series
This series was begun in 1965 in honor of the sesquicentennial of Indiana's statehood. The series has been a joint venture between the Indiana Historical Bureau and the Indiana Historical Society.
Purchases may be made via a visit to our office, by telephone (317-232-2535), fax (317-232-3728), or e-mail (ihb @ history.in.gov). More info on purchasing here.
Volume 1, Indiana to 1816: The Colonial Period
John D. Barnhart and Dorothy L. Riker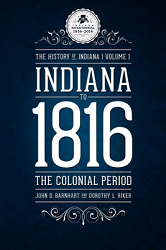 cloth 520 pp. reprint 1994 (1971) / ISBN 0-87195-108-8 / $29.95
Order No. 2300
paper 520 pp. reprint 2016 (1994) (1971) / ISBN 0-87195-109-6 / $19.95
Order No. 2301
Volume 2, Indiana, 1816-1850: The Pioneer Era
Donald F. Carmony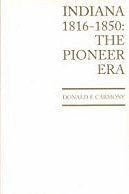 cloth 924 pp. 1998 / ISBN 0-87195-124-X / $39.95
Order No. 2302
paper 924 pp. 1998 / ISBN 0-87195-125-8 / $29.95
Order No. 2303
Volume 3, Indiana in the Civil War Era, 1850-1880
Emma Lou Thornbrough
cloth 758 pp. reprint 1991 (1965) / ISBN 0-253-37020-5 / $32.50
Order No. 2304
paper 758 pp. reprint 1991 (1965) / ISBN 0-87195-050-2 / $19.95
Order No. 2305
Volume 4, Indiana in Transition, 1880-1920
Clifton J. Phillips
cloth 674 pp. 1968 / ISBN 0-87195-092-8 / $17.50
Order No. 2306
Volume 5, Indiana through Tradition and Change: A History of the Hoosier State and Its People, 1920-1945
James H. Madison
cloth 453 pp. 1982 / ISBN 0-87195-043-X / $29.95
Order No. 2308
paper 453 pp. 1982 / ISBN 0-87195-042-1 / out of print
Order No. 2309