Indiana Statehood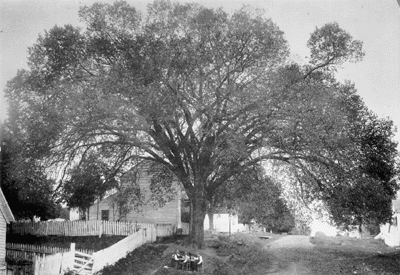 This photograph of the "Constitution Elm" was taken between 1921 and 1925. Delegates to the June 1816 constitutional convention apparently often worked in the shade of this tree. Although specific reports of dimensions vary, it was enormous with branches that spanned over 100 feet. It died of Dutch Elm Disease in 1925.
Indiana Division, Indiana State Library.
Cottman indicates that memories of residents who were living in 1816 substantiate the role of the "Constitution Elm" in the writing of the 1816 Constitution. "One of these, a Mr. Wynn, stated that as a lad ten years old he took early apples from his home to the out-of-door meeting-place and peddled them among the delegates; and among the earliest recollections of Henry Funk was a picture of the gathering of the men in their shirt sleeves sitting around under the great tree. For these rescued reminiscences we are indebted to Mr. J. Edward Murr, a locally well-known contributor to the Corydon Democrat. Mr. Thomas James de la Hunt, a newspaper man of Evansville, also tells of the stories which, as a child, he used to hear from his grandmother. This grandmother, in 1816, was a little girl, Becky Lang, who with other children was wont to play under the big elm, and her special reason for remembering the convention was that the meetings under the tree took their playground" (49).