Girl Scouting in Indiana - Timeline
The following timeline appears in Girl Scouting in Indiana, an issue of The Indiana Historian. In the magazine, the "Girl Scout Timeline" and the "Other Events in History" timeline are parallel. Here the events are intermingled.
The full citations are available in the issue bibliography.
1897
Indiana General Assembly passes comprehensive law prohibiting children under the age of 14 from working in manufacturing establishments. (Phillips, 332-33)
c. 1899
Typical housewife spends six hours a day on two tasks--cooking and cleaning. (Mintz and Kellogg, 90)
1902
Ernest Thompson Seton organizes the Tribe of Woodcraft Indians for boys, promoting outdoor life, preservation, and fellowship. (Murray, 16)
1905
Daniel C. Beard founds Society of the Sons of Daniel Boone for boys, promoting sport, outdoor recreation, woodcraft, and preservation. (Murray, 18)
1906
New city of Gary is built by United States Steel Co. (Phillips, 364)
1910
Boy Scout organization is established in U.S. (Young, 9)
1910
Indiana has a higher proportion of child labor than any other northern state except Ohio and Pennsylvania. (Phillips, 334)
1911
Camp Fire Girls is established in U.S. (Young, 9)
1911
March 10
Indiana University inaugurates state high school basketball tournament with 12 public high schools participating. (Phillips, 436)
1912
March 12
Juliette Gordon Low organizes first Girl Scout troop in Savannah, Georgia with 18 members. (Highlights, 5)
1912
New Mexico and Arizona become the 47th and 48th states. (Carruth, 245)
1912
August
Crothersville and Brownstown, Indiana have Girl Scout troops. (see p. 2 of this issue)
1914
February 10
Girl Scout trefoil design is patented. (Highlights, 5)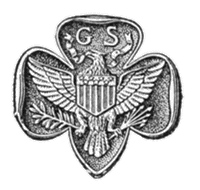 1926 Handbook.
1916
Indiana celebrates 100th anniversary of statehood with parades and pageants. (Phillips, 361)
1917
U.S. enters World War I. (Carruth, 254)
1917
October
The Rally, monthly magazine for Girl Scouts, begins publication. (Highlights, 6)
1920
Indiana survey shows 4,800 one-room schools still in use. (Phillips, 391)
1920
Rally magazine becomes The American Girl, a magazine for all girls, not just Girl Scouts. (Highlights, 6)
1920
U.S. census shows Indiana urban population larger than rural population for the first time. (Phillips, 363)
1920
November 5
Indiana Governor James Goodrich issues proclamation designating Girl Scout week. (Indianapolis News, November 5, 1920)
1921
Indiana General Assembly passes law requiring children between the ages of 14 and 16 to complete 8th grade. (Phillips, 389-90n)
1921
October 5
Martha Selma Beck starts first African-American troop in Indianapolis at School #17. (Young, 78)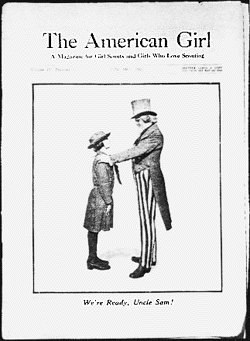 January 1921
1922
U.S. Bureau of Education reports 175,031 one-room schools across the country. (Walter, 32)
1926
GSUSA reports 26.1% of troops are affiliated with churches. (Walter, 79)
1927
January 17
Juliette Gordon Low dies in Savannah, Georgia. (Highlights, 8)
1927
May 21
Lindberg completes first nonstop airplane flight across the Atlantic from New York to Paris. (Carruth, 272)
1929
Indianapolis survey of children reveals that more than 50% attend movies at least once a week. Tom Mix and Clara Bow are most popular stars. (Madison, Indiana, 367)
1930
October 1
First Lady, Lou Henry Hoover gives greetings to Girl Scouts at National Council meeting in Indianapolis. (Indianapolis Star, October 1, 1930)
1935
Survey in Indiana shows that inadequate roads and bridges hinder school attendance and school consolidation. (Madison, Indiana, 190)
1935
U.S. Social Security Act marks federal government's recognition of public responsibility for aged and dependent Americans. Indiana General Assembly passes most significant social welfare reforms in state history in 1936. (Madison, Indiana, 118)
1936
Indianapolis Girl Scouts greet First Lady Eleanor Roosevelt during her visit to the city. (Indianapolis Star, June 17, 1936)
1936
First nationally franchised Girl Scout cookie sale. (Highlights, 10)
1938
Disney's Snow White and the Seven Dwarfs is top money maker, but movie attendance is down 40%. (Carruth, 293)
1938
Girl Scouts revise program to three age levels--Brownies, Intermediates, and Seniors. (Highlights, 10)
1939
The most popular magazine selling in a Brookston, Indiana drugstore is True Story. McCalls and Saturday Evening Post are also popular magazines. (Madison, 351)
1940
37% of Indiana farms have tractors, up from 4% in 1920 and 22% in 1930. (Madison, Indiana, 155)
1941
U.S. enters World War II. (Carruth, 299)
1942
Ox Hollow near Cannelton, Indiana is now a Girl Scout camp. (Indianapolis Star, July 26, 1942)
1942
Mrs. Douglas MacArthur gives permission for Huntington, Indiana troop to be named for her. (Indianapolis Star, September 20, 1942).
1942
December
Poll shows 44% of U.S. high school students are critical of, confused by, or indifferent toward the war. (Indianapolis Star, December 8, 1942)
1943
May
Girl Scouts of the U.S.A. publishes Senior Girl Scouting in Wartime. (Highlights, 11)
1943
Number of Hoosier women in the workforce increases 22% from January to October due to war-related labor shortage. (Madison, Indiana, 389)
1943
The first woman is elected to the Indiana State Senate. (Madison, Indiana, 37)
1948
Indiana Wing Scouts to be taught by ex-WASPS. (Indianapolis Star Magazine, June 20, 1948)
1949
Segregation is outlawed in Indiana schools. Girl Scouts integrate Indianapolis day camp. (Young, 84-86)
1952
March 18
Lady Baden-Powell visits Evansville. (Raintree Council, 55)
1954
May 17
Racial segregation in public schools is declared unconstitutional by U.S. Supreme Court in Brown v. Board of Education. (Carruth, 331)
1956
October 19
Juliette Gordon Low Birthplace is dedicated as a national Girl Scout program center. (Highlights, 14)
1959
Alaska and Hawaii become 49th and 50th states. (Carruth, 343)
1962
March 12
Girl Scouts celebrates 50th anniversary. (Highlights, 15)
1963
New Girl Scout program includes Brownies, Juniors, Cadettes, and Seniors. (Highlights, 15)
1964
Mrs. Merrill Deer establishes a Brownie troop for children of migrant farm workers. (Franklin Daily Journal, January 26, 1965)
1967
Senior Scout National Conference on the inner city is held at Marian College in Indianapolis. (Indianapolis News, August 8, 1967)
1969
Neil Armstrong walks on the moon. (Carruth, 391)
1971
Indiana is one of first states to pass environmental legislation limiting the amount of phosphorus in detergents. (Madison, Indiana Way, 283)
1972
New wording for Girl Scout Promise and Girl Scout Law is approved. (Highlights, 18)
1974
Columbus, Indiana Irwin-Sweeney-Miller Foundation funds pilot project linking Girl Scout councils in 8 states to provide services to girls in Mexican migrant worker families. (Williams, 33-34)
1974
Richard Nixon resigns from office as President of the U.S. (Carruth, 413)
1978
October
Redesigned trefoil is introduced. (Highlights, 19)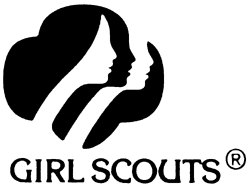 1979
July
American Girl magazine ceases publication. (Highlights, 20)

1980
Famous management consultant Peter F. Drucker conducts seminars for Girl Scout council presidents. (Highlights, 20)

1981
September
Sandra Day O'Connor, confirmed by U.S. Senate, is 1st female U.S. Supreme Court justice. (Carruth, 443)

1983
June 18-24
Sally Ride becomes first U.S. woman in space aboard Challenger's second mission. (Carruth, 453)

1983
December
Girl Scouts of the U.S.A. makes last mortgage payment on headquarters building in New York City. (Highlights, 21)

1984
Girl Scouts introduces Daisy Girl Scouts for 5 year olds. (Highlights, 21)

1985
Minority membership in Girl Scouts raises to 14%. (Highlights, 21)

1985
September 1
Wreck of the luxury liner Titanic which sank in 1912 is found by a U.S.-French team. (Carruth, 460)

1987
March 12
Girl Scouts celebrates 75th anniversary. (Highlights, 22)

1993
March 12
Good Housekeeping presents its first Seal of Community Service to GSUSA. (Highlights Update)

1995
GSUSA introduces low-fat and no-fat cookies for the first time. (Highlights Update)

1996
GSUSA World Wide Web site appears on the Internet at http://www.gsusa.org/index.html (Highlights Update)