Beginnings of Indiana Archaeology
Recorded archaeological investigations in Indiana started more than 170 years ago. During most of this time, the work was under the auspices of national or state institutions. Only in the past few decades has archaeology here been conducted by professional, university-trained, full-time archaeologists at institutions or companies dedicated primarily or solely to archaeological research, investigations, and preservation.
Records and investigations of archaeological sites in Indiana begin in the early nineteenth century. For example, Henry Rowe Schoolcraft visited the landmark Bone Bank site on the Wabash River in southwestern Indiana in 1822.
Actual excavations at Bone Bank began in 1828 when Charles Alexander Lesueur collected artifacts and described and sketched the site. Lesueur also excavated mounds at New Harmony.
Beginning in the early nineteenth century, General Land Office surveyors recorded archaeological sites in Indiana.

Sketches by Charles Alexander Lesueur, a naturalist, from his investigations in southern Indiana in the early nineteenth century. Above are drawings of receptacles and a terra cotta statuette from Bone Bank on the Wabash River. Below is a sketch of mounds in a cemetery at New Harmony. "The mounds at New Harmony formed a group of about twenty, hemispheric for the most part; several were egg-shaped." Many mounds had been excavated by treasure hunters. Hamy's biography of Lesueur was originally published in France in 1904. Source: Hamy, 48, 49, 58.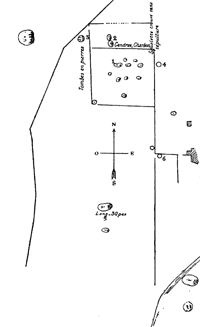 E.-T. Hamy, The Travels of the Naturalist Charles A. Lesueur in North America, 1815-1837 (Kent, Ohio, 1968), [49], 58. Illustrations published with permission of The Kent State University Press (out of print).
In the late nineteenth and early twentieth centuries, much of the documentation and investigation of archaeological sites was carried out or sponsored by institutions concerned with disciplines such as history or geology. Individuals working for the Indiana Geological Survey recorded archaeological sites as part of their investigations. Important contributions were also made by the Indiana Academy of Science (1885), the Indiana Historical Commission (1915, later the Indiana Historical Bureau); and the Indiana Historical Society (1830).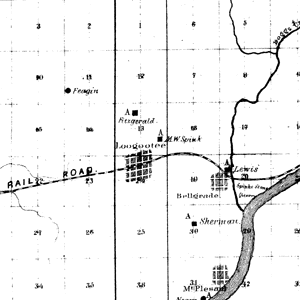 In 1837, the first geological survey of Indiana was authorized by the General Assembly. The appointed geologist of the state, David Dale Owen, recommended a much more extensive survey.
In 1869, the Indiana Geological Survey was founded. Its main purpose was to assess mineral resources that were economically important in each county. The geologists who made these surveys also began to include cultural sites.
The second annual report, for 1870, (below) includes the "Map of Daviess & Martin Counties, Indiana" (detail above). The map includes quarries (right side above between railroad and river), ochre beds, public buildings, businesses, etc.
Sources: E. T. Cox, Second Report of the Geological Survey . . . 1870 (Indianapolis, 1871), 110-11; Kellar, 14; David Dale Owen, Report of a Geological Reconnoisance of the State of Indiana . . . 1837 (reprint, Indianapolis, 1853), 12, 37.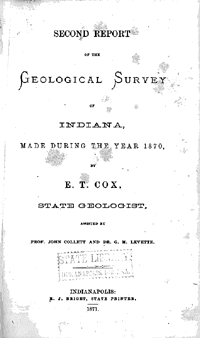 Also during this period, a number of national organizations concerned with the nation's heritage demonstrated interest in Indiana antiquities and archaeological sites.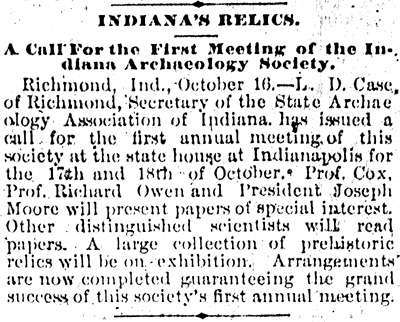 In September 1875, a meeting was called "in the rooms of the State Geologist in the State-house" to form an archaeological association. Attendees were urged to bring "relics of prehistoric man" to contribute "towards the formation of a State Archaeological Museum."
The notice pictured above invited people to the first annual meeting of the association. Papers were read, there was a debate about the origin of mounds, and a field trip to the mounds in Anderson.
Sources: Indianapolis Journal, September 15, 1875; Indianapolis Daily Sentinel, October 18, 20, 1876; Indianapolis Daily Journal, October 18, 1876.
Indianapolis Sentinel, October 17, 1876.
The 1920s were a time of great activity and beginnings of more systematic approaches to archaeology in Indiana. Also during this time, the Indiana Historical Commission began publishing archaeological surveys of counties in the state.
Dr. Clark Wissler of the National Research Council visited Indianapolis in 1920 to encourage "an archaeological survey of Indiana." Describing this initiative in the Guernsey report in 1924, Harlow Lindley, director of the Indiana Historical Commission, noted:
it was thought that much help could be secured for local county historical societies . . . . Such a survey . . . requires the active co-operation of a local group of workers in every county in the state.
Lindley went on to say:
the archaeological phase of the work could be accomplished satisfactorily only under the direction of some one trained in this particular field.
These statements indicate the nature of early archaeology. It was conducted by individuals with interests in history, archaeology, or antiquities, or by those who developed avocational experience. The studies were generally descriptive, not systematic.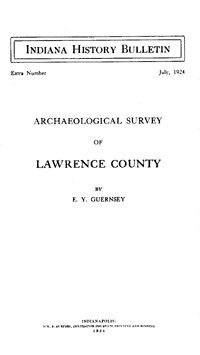 This publication in 1924 was the first archaeological survey published by the Indiana Historical Commission (later the Indiana Historical Bureau). Harlow Lindley, director of the Historical Commission, "hoped this bulletin will . . . give to its readers an idea of what there is to be done in each county" for the statewide survey program. E. Y. Guernsey, the surveyor and author of the report, hoped that "an inspiration may be afforded for the study of other Indiana localities, or an interest be awakened in the most fascinating study of primitive man's part in Indiana's history."
Source: E. Y. Guernsey, Archaeological Survey of Lawrence County (Indianapolis, 1924), 5, 9.
Eli Lilly and archaeology in Indiana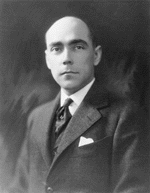 Eli Lilly and Company
Archives.
In addition to his other accomplishments and contributions, Eli Lilly has been described as "The individual primarily responsible for the creation and maintenance of the modern program in state archaeology."
A visit with an artifact collector sparked Lilly's interest in the prehistoric peoples of Indiana, and the evidence that they left behind. "Increasingly it was the mystery and the intellectual challenge of understanding prehistoric civilizations . . . that sparked Lilly's imagination and energy." Lilly wrote important archaeological publications and supported archaeological and historic preservation projects for decades.
His legacy to archaeology remains in many ways, including the continued support of the Glenn A. Black Laboratory of Archaeology at Indiana University by an endowment.
Sources: Kellar, 16; Madison, 122.
During the 1930s, Black became the first full-time professional archaeologist in Indiana. He later taught at Indiana University. In 1937, Lilly published his landmark study Prehistoric Antiquities of Indiana.
In 1938, the Indiana Historical Society, with the help of Lilly, acquired the Angel Mounds site, which was transferred to the state in 1945. Long-term excavations at Angel Mounds began in 1939 and continued relatively uninterrupted for more than two decades.
Over the past fifty years, archaeology in Indiana has become increasingly profession-alized. Archaeologists trained in universities have conducted investigations throughout the state. Many Indiana universities now have full-time archaeological staff and laboratory facilities, and conduct archaeological projects year round.
Since 1966 especially, there has been increasing federal and state legislation protecting state and national historic properties and cultural resources, including archaeological sites. According to Kellar,
These developments . . . made them [archaeologists] consultants and professional participants in a host of construction-related activities. . . . archaeologists . . . have been engaged in structuring field activities that respond to industrial developments or public works projects in an effort to conserve and preserve historic sites and the information they contain.
The future of archaeology in Indiana is promising as institutions, governments, and the public gain a better understanding of its role and contributions to historical and scientific knowledge.
Sources: Black, vii; E. Y. Guernsey, Archaeological Survey of Lawrence County (Indianapolis, 1924), 5; Hamy, 48-57; Kellar, 13-22; Michael, 67.