Indiana and Fugitive Slave Laws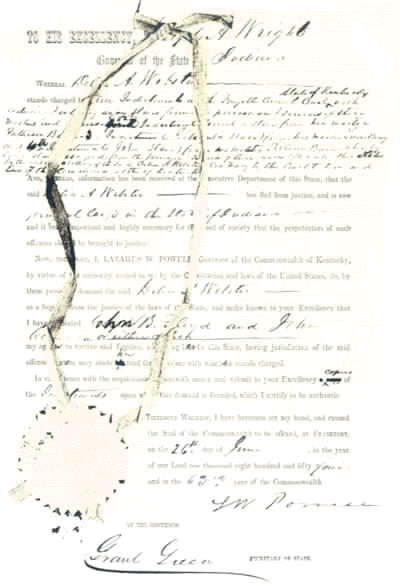 Governor of Kentucky to Governor of Indiana demanding return of a fugitive.
Courtesy Archives Division, Indiana Archives and Records Administration
Transcription


TO HIS EXCELLENCY, Joseph A. Wright
WHEREAS, Delia A. Webster
Stands charged ________ Indictments in the Fayette circuit Court State of Kentucky with conducing and (enticing) away slaves from the possession & services of there masters and (overseers) - _______ Indictment Married a slave from his master Patterson B_____, Indictment __________ slave from his master Lewis Berry and _______ Indictment _____ slave from master Patterson Bain whereby ______ escaped from the possession Indictment of _______ _________ other states by the _____ _____ of the said Delia A. Webster contrary to the constitution and laws of the commonwealth of Kentucky.
AND, WHEREAS, information has been received at the executive Department of this State, that the said Delia A. Webster has fled from justice, and is now __________ (lodged) in the State of Indiana and it be important and highly necessary for the good of society that the perpetrators of such offenses should be brought to justice:
NOW, THEREFORE, I LAZARUS W. POWELL, Governor of the Commonwealth of Kentucky, by virtue of the authority vested in me by the Constitution and laws of the United States, do, by these present demand the said Delia A. Webster as a fugitive from the justice of the laws of the State, and make known to your Excellency that I have appointed John B. Floyd and John C_____ or either of which my agent to receive said fugitive, and bring her to this State, having jurisdiction of the said offense that she may abide her trial for the crime with which she stands charged.
In c__iance with the requisitions herewith annex and submit to your Excellency copies of the Indictments upon which this demand is founded, which I certify to be authentic.
TESTIMONY WHEREOF, I have hereunto set my hand, and caused the Seal of the Commonwealth to be affixed, at FRANKFORT, on the 26th day of June, in the year of our Lord one thousand eight hundred and fifty four, and in the 63rd year of the Commonwealth.
LW Powell
BY THE GOVERNOR
Grant Green SECRETARY OF STATE
On February 12, 1793, President George Washington, a slaveholder himself, signed the first Fugitive Slave Law of the United States. This law, providing for the return of fugitive slaves from any state or territory in the Union, was weighted heavily in favor of the slaveholder. In 1821, Indiana instituted "An Act Authorising the Writ of Replevin"; pursuant to this statute anyone found guilty of detaining "goods or chattels" could be sued for double the amount of the "property." Three years later Indiana passed its own Fugitive Slave Law. The 1824 statute delineated the procedure slaveholder's and Indiana law officials must follow in claiming "property." Abolitionists and those active with the Underground Railroad fell victim to these laws. 1
A famous case arose in November, 1847, in Fugit Township, Decatur County, where Caroline, a slave woman fleeing from Trimble County, Kentucky, and her four children, arrived--apparently escorted by Underground Railroad conductors. Some residents, aware of a reward offered by Caroline's slaveholder, attempted to detain the fugitives, but they were rescued and sent on their way to Canada by a group of blacks and some white men, including one Luther Donnell. Indicted by a grand jury for violating the 1824 law, Donnell was subsequently tried and convicted in Decatur Circuit Court. Four years later, in an important decision, the state Supreme Court overturned the conviction on the grounds that Congress alone had the authority to legislate on the subject of fugitive slaves. In a civil case, however, Caroline's slaveholder was awarded a judgment of several thousand dollars.2
A case in Randolph County turned out more favorably for the abolitionist parties involved. During mid-winter, 1839, two young girls, Susan and Margaret, fled slavery in Tennessee and sought refuge with their grandparents, Thomas and Milly Wilkerson, in Cabin Creek Settlement in Randolph County. Their slaveholder, Thomas Stringfield, pursued them and when he reached the cabin he demanded that the girls come out. Instead, Milly, described as "large and stout," who "could handle an axe or rifle equal to any man," flung the door open and stood in the doorway wielding a corn knife.3 "The men," according to a bystander, "knew that she meant what she said."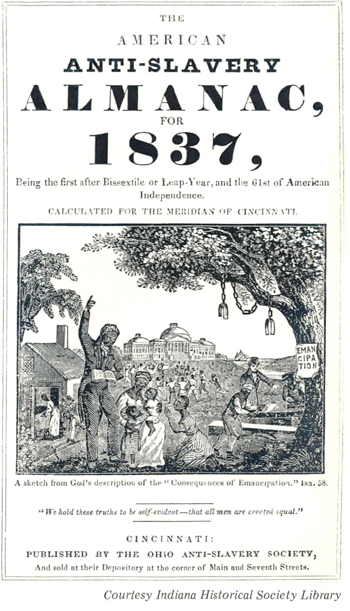 Stringfield left but later returned with seventeen armed men. Thomas Wilkerson was not at home, and Milly sent her grandson, Pharoah, to hail two abolitionists who lived in the area. Meanwhile, blacks in the neighborhood who noticed the commotion "came pouring from every direction, armed with axes, hoes, clubs, and whatever they could lay their hands on." Milly continued guarding the doorway, holding the corn knife, and allowed only black people to enter the cabin. Two other abolitionists in the area acted as sentries, perched about two hundred yards northwest of the cabin with rifles. "lf there had been a blow struck," Martin Scott asserted, "we were ready, . . . our rifles cocked and our finger on the trigger." Eventually Milly Wilkerson allowed the slaveholder to enter and search the house. The slaveholder found no girls; their grandmother had dressed them as boys, and they had left with the other black people. The girls reportedly went to Underground Railroad conductor John Bond's house and on to Canada.4

Schuyler Colfax
Frontispiece from The Life and Public Services of Schuyler Colfax
Stringfield, reportedly a Methodist clergyman, subsequently sued the Wilkersons and several others involved in the incident for the value of his ex-slaves. Moorman Way and Samuel W. Parker, two men involved in the antislavery movement in the area, defended them. The case never came to trial, however, and after many delays, the disheartened slaveholder finally gave up and dropped the case.5
In the fall of 1850 a convention convened at Indianapolis to draw up a new state Constitution. A most important question in the convention was what to do about the "Negro problem." Schuyler Colfax, a delegate frown St. Joseph County, introduced the question of black suffrage. Colfax, who personally opposed black enfranchisement, pointed out that there were thousands of people in the state that favored it and that the issue should at least be considered. This proposal was voted down by an overwhelming majority; only Edward May of DeKalb and Steuben counties dared to vote aye.6
Perhaps the most important event in the convention was that the body manifested a decidedly anti-Negro attitude. The delegates proposed that the state had been overrun with blacks; to solve the problem Article 13 was introduced, banning Negro migration into the state and promoting colonization. On August 4, 1851 this article was voted upon by residents of the state as a separate proposal from ratification of the new Constitution. William Merrill, Indianapolis, believed that the constitutional convention made a "Tolerable Constitution," but that the article regarding Negroes would not pass. "The article in relation [to] Negroes," Merrill proclaimed, "is decidedly hard but I think that will not pass as it is to be voted for by itself.''7
Merrill could not have been more mistaken in his prediction. While 113,230 voted for the new Constitution as opposed to 27,638 against it, 113,828 favored the Negro exclusion article while 21,873 opposed it. In only four counties--Elkhart, LaGrange, Randolph, and Steuben--did the vote against the exclusion article exceed the vote for it. Indiana was not the only western state that enacted such a law. Illinois had done so in 1847, and a similar measure was introduced in Ohio but was voted down.8
Abolitionists in the state were aghast that the convention could even propose to exclude blacks frown the state. During the debates Grant, Randolph, and Union counties submitted petitions urging that blacks not be excluded. But the majority of the people were determined to show that "negro fanaticism . . . had . . . few devotees in Indiana." Indeed, as one source indicated, blacks were considered "aliens and enemies, and some mode should be adopted to rid the country of their presence, or at least of preventing their further emigration." William C. Foster, delegate from Monroe County, claimed that no one could be "charged with inhumanity in preventing our State from being overrun with these vermin.''9
When Hoosier state voters adopted Article 13, which decreed in part that "No negro or mulatto shall come into or settle in the State, after the adoption of this Constitution," abolitionists had hardly recovered from a shock experienced the previous year. In the fall of 1850 President Millard Fillmore had signed the Fugitive Slave Law of 1850. When Congress adopted this law, a Columbus, Ohio, newspaper declared that the federal government now dedicated itself to "Life, Liberty, and the 'Pursuit of Niggers.'"10
The new law potentially subjected every free black in the North to capture by slave catchers. Under the terms of the 1850 law, slave hunters and holders simply had to swear to a justice of the peace that their captives were fugitive slaves. They then received legal permission to carry the blacks into bondage, and the captives had no voice in the matter. Under this law federal commissioners had the power to deputize private citizens to assist in the capture of fugitives; anyone who helped the alleged fugitives could be fined.
One of the most vicious instances of flagrant and pernicious abuse of this law in Indiana occurred in 1853 when John Freeman, a wealthy free black who lived in Indianapolis, was accused of being a fugitive slave. Arrested and placed in the Marion County jail, Freeman subsequently lost nearly $6,000 worth of property before he could prove that he was indeed free.11 After the Freeman case, many free blacks decided to leave the state and sought refuge in Michigan or Canada. "The danger of being taken as Freeman was," Thomas Hedgebeth, a Canadian refugee wrote, "and suffering from a different decision, worked on my mind. 1 came away into Canada in consequence, as did many others." Moreover, Hedgebeth claimed many could have testified that Freeman was indeed a free man, "but their oath would not be taken in Indiana.''12
Many blacks did choose to leave Indiana after state voters approved Article 13, and the federal government enacted the Fugitive Slave Law. Henry Bibb's Voice of the Fugitive, July 1, 1852, observed that "22 from Indiana passed through to Amherstburg, with four fine covered wagons and eight horses. A few weeks ago six or eight such teams came from the same state into Canada. The Fugitive Slave Law," the article asserted, "is driving out brains and money." Aaron Siddles, another former Hoosier, left because of the "oppressive laws in Indiana." He asserted that Indiana was one of the most beautiful places in the United States and "excepting for the oppressive laws, I would rather have remained in Indiana." 13
For some whites, conditions after the passage of this law were not much better than those of blacks. Though it was far more dangerous, some white abolitionists stepped up the activities on the Underground Railroad. In Indiana, the Anti-Slavery League formed in southwestern Indiana as a result of the Fugitive Slave Law. These men and women helped many fugitive slaves reach their promised land in Canada. As a result of their efforts, some whites had to flee to Canada themselves to avoid prosecution under the 1850 law. Others, however, were not quite so fortunate as those who claimed refuge under the Canadian canopy.
Calvin Fairbank was one victim of the Fugitive Slave Law. He had been sentenced to a prison term in the 1840s for aiding and abetting the escape of slaves and had received a pardon from the governor of Kentucky after serving five years of a fifteen year term. After his pardon, on August 23, 1849, Fairbank crossed the Ohio River to Madison, Indiana, made a trip up the Underground Railroad line to Detroit, and then went home to New York. His mother, however, requested that he return to Kentucky to exhume and bring home the body of his father, who had died from cholera while in Kentucky trying to obtain a pardon for his imprisoned son.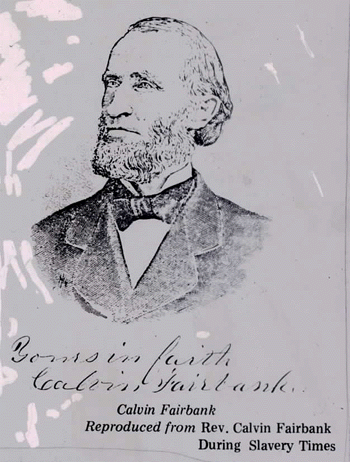 When Fairbank returned to Kentucky, he met Tamar, a slave girl who wished to be free. Fairbank agreed to help her secure her freedom. They ferried across the Ohio River to Madison and followed the Underground Railroad line north. Fairbank then returned to Indiana and settled in Jeffersonville. As he slept in his lodging house, agents from Kentucky "kidnapped" him and took him to Lexington without benefit of a trial in Indiana (although Indiana Governor Joseph Wright had issued a warrant for his arrest and authorized Kentucky agents to seize him). Fairbank stood trial in the slave state, was found guilty, and served an additional ten years in the Kentucky State Penitentiary.14
Delia A. Webster had been indicted along with Fairbank in Kentucky in 1844 for helping slaves to escape. Although Delia had served a short time in prison, she had gone on to teach school near the farm she had purchased in Trimble County, Kentucky, near Madison, Indiana. In 1854 the 1844 charges were activated; a warrant was issued for her removal from Indiana to which she had fled. Delia was hidden by abolitionists in Madison, and she never returned to Kentucky to face charges. She settled in Madison and taught school. 15
Even though the Fugitive Slave Law of 1850 usurped the state's right to regulate laws concerning fugitive slaves, those of a more pro slavery persuasion clamored for more strict regulation of the law. In 1857, Representative Thomas F. Bethell, of Warrick County, introduced a bill in the Indiana General Assembly to carry out the Fugitive Slave Law of 1850 more efficiently. His bill proposed that any Negro or mulatto nonresident of the state could be arrested and taken before a commissioner or justice of the peace to show why the "suspected fugitive" should not be confined to jail as a fugitive slave. This subjected blacks to harassment and endangered black visitors, travelers, or other non-residents who ventured through the state. 16
Bethell's bill never passed the General Assembly, but the Fugitive Slave Law of 1850 remained in effect for fourteen years. Despite such repressive laws, abolitionists kept sight of their goals and tried other methods to persuade the nation to abandon the institution of slavery. Local and national abolitionist leaders toured the state giving antislavery lectures. Designed to produce emotional responses, the lectures appealed to the heart and conscience of the nation. For their efforts, however, many of the abolitionists were subject to violence and were the objects of scorn and hate. The enmity between abolitionists and most others in the nation obviously did not just begin after the Fugitive Slave Law, but that legislation greatly heightened tensions.