History of the Bureau
The Indiana Historical Commission was created in 1915 to plan the centennial celebration of Indiana statehood in 1916. The Indiana Historical Bureau evolved from the Indiana Historical Commission.
The volunteer group of commissioners (as pictured) consisted of eight men and one woman. They hired a state pageant master to introduce the pageant movement to the state and an artist to design a centennial medal. They made it possible for a seven reel motion picture on the history of the state to be produced. The centennial celebration also renewed interest in the study of Indiana history.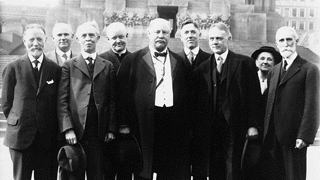 Indiana Historical Commission - 1915
(from left to right) Samuel M. Foster, Lew M. O'Bannon, Frank B. Wynn, John Cavanaugh, Samuel M. Ralston, Harlow Lindley, Chas. W. Moores, Charity Dye, James A. Woodburn.