Indiana Governor William Hendricks (1782 - 1850)
William Hendricks
Governor of Indiana
December 5, 1822-February 12, 1825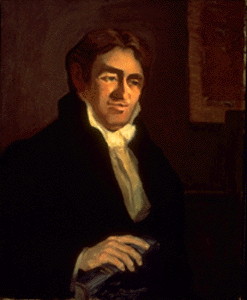 Artist: Samuel Burtis Baker, American, 1882-1967
oil on canvas, 32 3/16 x 26 5/16 (81.7 x 66.8)
Unsigned
WILLIAM HENDRICKS, born in Pennsylvania, was educated in a common school, read law, and was admitted to the bar in Cincinnati. In 1812 he came to Madison, Indiana Territory, where he practiced law and established the Eagle, the second newspaper published in Indiana. After only a few years in Madison he was elected to the territorial house of representatives and was secretary of the Indiana Constitutional Convention in 1816. A Democratic-Republican, Hendricks won election in August, 1816, as the first state representative to Congress from Indiana and was re-elected twice to this office.
Hendricks, running unopposed, was elected governor in 1822. It was during this term of office that the capital was moved from Corydon to Indianapolis. Hendricks resigned in 1825 upon election to the United States Senate. Re-elected to the Senate in 1830, Hendricks served until 1837, having been defeated for re-election by Oliver H. Smith in 1836. After twenty-one years in public office, he returned to Madison to practice law and manage his large estate.
Smith and Hendricks were friends, and Smith remembers him: "He had a smile on his face and a warm shake of the hand for all he met. He was not of the very first order of talents, but made all up by his plain, practical, good sense. He never attempted to speak upon subjects he did not understand." He was about six feet tall and had red hair and blue eyes. His nephew, Thomas A. Hendricks was elected governor of Indiana in 1873.
Source: Peat, Wilbur D. Portraits and Painters of the Governors of Indiana 1800-1978. Revised, edited and with new entries by Diane Gail Lazarus, Indianapolis Museum of Art. Biographies of the governors by Lana Ruegamer, Indiana Historical Society. Indianapolis: Indiana Historical Society and Indianapolis Museum of Art, 1978.