Indiana Governor Samuel Bigger (1802 - 1846)
Samuel Bigger
Governor of Indiana
December 9, 1840-December 6, 1843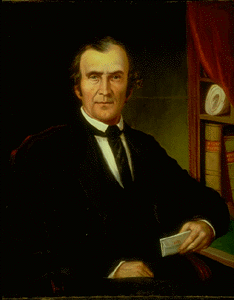 Artist: Jacob Cox, American, 1810-1892
oil on canvas, 36 x 29 (91.4 x 73.7)
Unsigned
SAMUEL BIGGER was born in Ohio, the son of a prominent Ohio legislator, and attended Ohio University, where he received both the A.B. and A.M. degrees, and then studied law. He moved to Indiana in 1829, eventually settling in Rushville.
Bigger served in the Indiana House of Representatives from 1833 to 1835, as circuit court judge from 1835 to 1840, and in 1840 was nominated for governor on the Whig ticket, defeating his Democratic opponent, General Tilghman A. Howard. As a result of the breakdown of the internal improvements program, Bigger's administration was plagued with the state's debts. He was nominated for re-election in 1843 but was defeated by James Whitcomb. He moved to Fort Wayne, where he resumed his law practice, and died suddenly two years later, while still a young man.
Although Bigger was not considered a brilliant man, his judgment was sound and he was popular. One contemporary commented that Bigger "had Lincoln's fondness for a joke without much of his skill in telling one." A large, dark-complexioned man, he was an enthusiastic and capable bass singer and violinist.
Source: Peat, Wilbur D. Portraits and Painters of the Governors of Indiana 1800-1978. Revised, edited and with new entries by Diane Gail Lazarus, Indianapolis Museum of Art. Biographies of the governors by Lana Ruegamer, Indiana Historical Society. Indianapolis: Indiana Historical Society and Indianapolis Museum of Art, 1978.