Indiana Governor Ratliff Boon (1781 - 1844)
Ratliff Boon
Governor of Indiana
September 12-December 5, 1822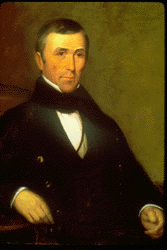 Artist: James Forbes, American, c. 1800-?
oil on canvas, 36 x 29 (91.5 x 73.6)
Signed and dated l.r.: Jas. Forbes/Copied 1870/Original/18.?.
RATLIFF BOON came to Warrick County, Indiana, from Kentucky in 1809. After attending public schools, Boon learned the gunsmith trade but soon began a long political career with his election as Warrick County treasurer in 1813. He then served as a member of the Indiana House of Representatives, the Indiana Senate, and in 1819 was elected lieutenant governor on the ticket with Jonathan Jennings. Upon Jennings' resignation as governor in September 1822, Boon filled out the unexpired term.
Boon was again elected lieutenant governor in 1822 when William Hendricks was elected governor and served until January 1824, when he decided to run for Congress. Elected as a staunch Jacksonian Democrat that year, he was unsuccessful in his bid for re-election in 1826, but was elected to the five succeeding Congresses, serving twelve years in all, 1825 to 1827, 1829 to 1839. In 1836 Boon was a candidate for the United States Senate but was defeated by Oliver H. Smith. He moved to Missouri in 1839 and took part also in the politics of that state. An acquaintance described Boon as a "lithe, active man when I last saw him. In height he was about five feet ten inches, spare in person, and as straight as an Indian. His forehead was low and receded rapidly from his eyebrows." Historian Will Fortune observed, "his education was limited, but he was a man of extraordinary tact and sagacity."
Source: Peat, Wilbur D. Portraits and Painters of the Governors of Indiana 1800-1978. Revised, edited and with new entries by Diane Gail Lazarus, Indianapolis Museum of Art. Biographies of the governors by Lana Ruegamer, Indiana Historical Society. Indianapolis: Indiana Historical Society and Indianapolis Museum of Art, 1978.