Indiana Governor Paris Chipman Dunning (1806 - 1884)
Paris Chipman Dunning
Governor of Indiana
December 26, 1848 - December 5, 1849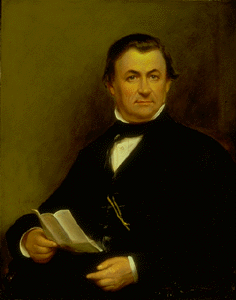 Artist: James Forbes, American, c. 1800-?
oil on canvas, 36 1/4 x 29 1/2 (92.1 x 75.0)
Signed l.l.: Jas. Forbes Pinx
PARIS DUNNING was born in North Carolina and moved to Bloomington, Indiana, in 1823. He attended the academy at Greensboro, North Carolina, studied medicine in Kentucky, and finally studied law with James Whitcomb in Bloomington.
Dunning served in the Indiana House of Representatives from 1833 to 1836 and in the Indiana Senate from 1836 to 1840. In 1846 Dunning was elected lieutenant governor on the Democratic ticket, and became governor in December 1848, when Whitcomb was elected to the United States Senate. Dunning, a Douglas Democrat, was again elected to the state senate in 1863 and was chosen to be president of that body. He then returned to Bloomington and his law practice, where he achieved success as a leading criminal lawyer.
Dunning was the only person in Indiana history who held all the offices of governor, lieutenant governor, state senator, president pro tempore of the state senate, and state representative. A contemporary described him as speaking "fluently and with marked emphasis. His style, both in speaking and writing, is nervous and bold."
Source: Peat, Wilbur D. Portraits and Painters of the Governors of Indiana 1800-1978. Revised, edited and with new entries by Diane Gail Lazarus, Indianapolis Museum of Art. Biographies of the governors by Lana Ruegamer, Indiana Historical Society. Indianapolis: Indiana Historical Society and Indianapolis Museum of Art, 1978.