Indiana Governor Joseph E Kernan (b 1946)
Joseph E. Kernan
Governor of Indiana
September 13, 2003-January 10, 2005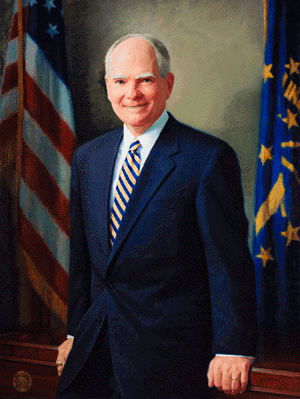 Artist: Mark Dillman, American, b. 1955
oil on canvas, 42 x 32
Signed l.r. Mark Dillman
Sworn in as Indiana's 48th governor upon the death of Governor Frank O'Bannon on September 13, 2003, Joe Kernan provided strong leadership for the state during a tragic and historic transition. O'Bannon suffered a stroke while attending a trade summit in Chicago on September 8, 2003, after which then-Lieutenant-Governor Kernan served as acting governor until being sworn in, presiding over a smooth transition of power with strong bipartisan support from members of the Indiana General Assembly and the Indiana Supreme Court.
While finishing out a term with only 16 months remaining, Kernan quickly showed that he would not be a care-taker governor. His selection of Katherine L. Davis as the state's first female lieutenant governor signaled his determination to continue to move the state forward and his intention to tackle the state's most pressing needs.
Davis, an engineer who had extensive experience in the business sector, also brought to the job a strong understanding of state government, having previously served as state budget director and a high level official in several key state agencies. Kernan quickly put Davis to work on one of his top priorities—government reform. As a result of her leadership of the Peak Performance Project, the administration put forward the most sweeping plan for overhauling state government in more than 30 years. The plan included reducing the number of state agencies and aligning them under a nine-member cabinet to increase accountability and efficiency, and make government easier for Hoosiers to access and use. Kernan and Davis also took steps through Peak Performance to strengthen the state's ethics policies, including adding no-gift rule for employees, stronger post-employment lobbying rules and the creation of the Office of Chief Investigator.
One of the governor's most significant reforms came through Opportunity Indiana, a program that positioned the state's purchasing responsibilities as a tool for investing in Hoosier businesses. Through a series of policy changes, Opportunity Indiana provided a greater chance for Indiana companies to compete for state contracts, along with offering a free, online business-to-business network— Buy Indiana—to promote Hoosier products and companies. By the end of 2004, more than 4,000 companies that hadn't registered previously signed up to do business with the state. As well, Buy Indiana had more than 1,500 companies listed.
As lieutenant governor, Kernan played a key role in helping strengthen Indiana's climate for business investment. His leadership of the bipartisan 2002 tax restructuring plan led to steps that included the elimination of the inventory tax and gross receipts tax, as well as significant investment in the state's workforce, education and job creation efforts. In addition, significant property tax relief was provided for homeowners to mitigate the impact of court ordered reassessment.
As governor, Kernan continued to build on these important steps and ensure Indiana would emerge from the national recession in a better position than before and with a competitive edge in the global marketplace. In January 2004, Kernan unveiled Indiana@Work. This unique program provided skills assessment and training opportunities for Hoosiers, as well as helped companies assess the skills needed for jobs and match them with workers who fit those needs. By the end of 2004, some 30,000 Hoosiers had received skills assessments through the program, along with the commitment to profile more than 700 jobs for 169 companies.
During his 16 months as governor, Kernan also continued to focus on strengthening educational opportunities for Hoosiers and improving student achievement. In March 2004, Kernan asked the state's public colleges and universities to hold tuition and fee increases to no more than 4 percent for the 2004-05 academic year. As well, in October he announced plans to expand the state's community college system from 10 campuses to 23 in the fall of 2005, which meant that every Hoosier would be within 30 miles of a community college campus. As co-chair of the Indiana Education Roundtable, he led efforts to adopt the P-16 Plan for Improving Student Achievement, a long-term strategic plan for the state. The roundtable also adopted CORE 40 as the mandatory curriculum for Indiana's high school students. As well, by executive order, Kernan established the Early Learning and School Readiness Commission to make recommendations aimed at ensuring Hoosier children get the best start to life possible.
Kernan, a veteran himself, placed a priority on helping those Hoosiers who had served and are serving in the armed forces. As lieutenant governor, Kernan started the Veterans Outreach Initiative that included efforts to make Hoosier veterans more aware of benefits available to them, as well as launching the annual Supermarket of Benefits in communities around the state, bringing together organizations that provide services to veterans. During his time as governor, the state's work to support National Guard members and their families drew national attention when Kernan testified before the U.S. Senate. In his testimony he highlighted the work of the Indiana National Guard's family readiness programs, as well as called for more health care assistance and shortened deployment periods.
Kernan also took an aggressive approach to the problem of rising health care costs. During his time in office, the state received national praise for changes made to HoosierRx that allowed seniors twice the discount when used in conjunction with the new federal Medicare prescription drug benefit. He signed legislation creating the state's prescription drug purchasing pool and moved forward with the Hoosier Health Plan to bring affordable health coverage to the state's uninsured. On Dec. 1, 2004, in light of the fact that no action was being taken at the national level, he convened a prescription drug summit that included key stakeholders and advocates aimed at beginning to develop an "Indiana solution" to address affordability issues.
Kernan was first elected to public office in 1987 when he became mayor of South Bend, after serving as city controller from 1980 to 1984. He went on to be the city's longest serving mayor, re-elected in 1991 and 1995, when he won with more than 82 percent of the vote. In 1996 O'Bannon asked him to join the statewide ticket as the Democratic candidate for lieutenant governor. The O'Bannon-Kernan ticket won the 1996 election, and was reelected in 2000.
In 1969, Kernan entered the U.S. Navy and served as a naval flight officer aboard the U.S.S. Kitty Hawk. In May 1972, he was shot down over North Vietnam and was held as a prisoner of war for nearly 11 months. Kernan was repatriated in 1973 and continued on active duty until December 1974. For his service, Kernan received numerous awards, including the Navy Commendation Medal, two Purple Hearts and the Distinguished Flying Cross.
Kernan, the oldest of nine children, graduated from St. Joseph's High School in South Bend. He was a catcher on the baseball team at the University of Notre Dame, and graduated in 1968 with a degree in government. Kernan and his wife, First Lady Maggie Kernan, were married in 1974 and live in South Bend.