Indiana Governor James Whitcomb (1795 - 1852)
James Whitcomb
Governor of Indiana
December 6, 1843-December 26, 1848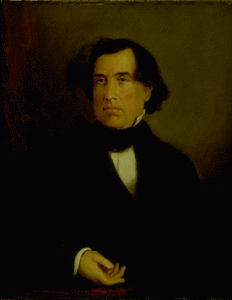 Artist: James Forbes, American, c. 1800-?
oil on canvas, 36 1/8 x 29 1/8 (91.8 x 74.0)
Signed bottom center: Jas. Forbes Pinx
JAMES WHITCOMB was born in Vermont, moved to Kentucky, and graduated from Transylvania University. He studied law and was admitted to the bar in Fayette County, Kentucky, in 1822, before finally settling in Bloomington, Indiana, in 1824.
Whitcomb served in the Indiana Senate from 1830 to 1836, when President Jackson appointed him commissioner of the General Land Office, a position which he held until 1841. Whitcomb was elected governor on the Democratic ticket in 1843, defeating the incumbent governor, Samuel Bigger. Three years later he was re-elected.
It was during Whitcomb's administration that the Indiana Hospital for the Insane, the Indiana Asylum for the Education of the Deaf and Dumb, and the Indiana Institute for the Education of the Blind were established. Whitcomb resigned as governor in December 1848, upon his election to the United States Senate, where he served until his death on October 4, 1852.
Whitcomb was accounted a brilliant man by his peers. Although he was known for parsimony, he was also elegant of manner and dress and accumulated a fine library, which he left to DePauw University. One author remembers that Whitcomb was "as economical of time as of money, always reading when not engaged with business. It was not unusual to meet him in the street, absorbed in the contents of a book." He married quite late in life and left a five-year-old daughter an orphan upon his death.
Source: Peat, Wilbur D. Portraits and Painters of the Governors of Indiana 1800-1978. Revised, edited and with new entries by Diane Gail Lazarus, Indianapolis Museum of Art. Biographies of the governors by Lana Ruegamer, Indiana Historical Society. Indianapolis: Indiana Historical Society and Indianapolis Museum of Art, 1978.