Indiana Governor James Atwell Mount (1843 - 1901)
James Atwell Mount
Governor of Indiana
January 11, 1897-January 14, 1901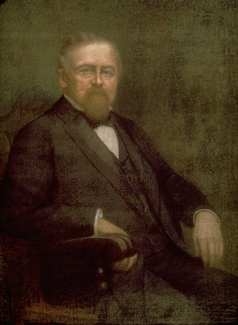 Artist: James M. Dennis, American, 1840-1918
pastel on canvas, 45 x 34 (114.3 x 86.4)
Unsigned
JAMES MOUNT, the son of a Montgomery County farmer, was educated in the common schools. He served for three years in the Seventy-Second Indiana Infantry (1862-1865), with distinction for bravery in action, and attended the Presbyterian academy in Lebanon, Indiana, for one year after the war. Then, with his bride, he began farming as a tenant in his home county and succeeded well enough to purchase the land he farmed after ten years and owned five hundred acres by 1895. Especially interested in husbandry, he frequently lectured at farmers' institutes, where he established a political base for his later career.
Mount, the successful farmer, was sent by his neighbors to the state senate in 1888 and then ran, unsuccessfully, for Congress in 1890. After serving in 1892 as president of an important vigilante organization, the State Horse Thief Detective Association, he was elected governor in 1896 and served his full term. Mount was called upon to mobilize Indiana troops to serve in the Spanish-American War.
He was a small, wiry man, an entertaining speaker, and a prominent Presbyterian layman.
Source: Peat, Wilbur D. Portraits and Painters of the Governors of Indiana 1800-1978. Revised, edited and with new entries by Diane Gail Lazarus, Indianapolis Museum of Art. Biographies of the governors by Lana Ruegamer, Indiana Historical Society. Indianapolis: Indiana Historical Society and Indianapolis Museum of Art, 1978.