Indiana Governor Henry Frederick Schricker (1883 - 1966)
Henry Frederick Schricker
Governor of Indiana
January 13, 1941-January 8, 1945
January 10, 1949-January 12, 1953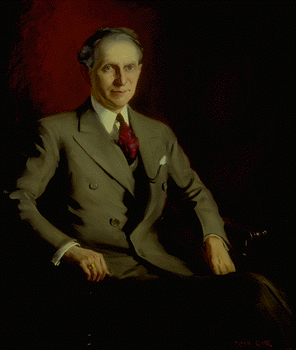 Artist: Marie Goth, American, 1887-1975, painted before 1943
oil on canvas, 42 x 36 (106.7 x 91.5)
Signed l.r.: MARIE Goth
HENRY SCHRICKER was born in North Judson, the son of Bavarian immigrants, and attended Starke County public schools. He ran the Starke County Democrat, a weekly newspaper, for eleven years, then went into banking.
In 1924 Schricker, a Democrat, ran unsuccessfully for the state senate, but in 1932 he was elected to the same post. After serving as lieutenant governor from 1937 to 1941 he was elected governor in 1940 and again in 1948, becoming the first governor to be elected to two four-year terms.
Challenged by Republican legislatures in both terms, Schricker's administrations were notable for the repeal in 1941 of the government reorganization laws of 1933 and legislative attempts to make welfare department records available to the public in violation of federal confidentiality requirements.
Schricker was twice defeated for the United States Senate (in 1944 and 1952). Reportedly Franklin Roosevelt offered him the vice-presidential nomination in 1944, and Schricker declined. When his name came up as a possible candidate for the Presidency, he said with rare candor and modesty that the suggestion embarrassed him, since "a man ought to know his own limitations." He received national recognition in 1952 when he nominated Adlai Stevenson for President at the Democratic National Convention.
Schricker was a tremendously popular politician. He was described as a "typical Hoosier" and a small-town boy. An inveterate cigar smoker and tobacco chewer, Schricker excelled at the art of the political banquet and "the art of remembering people." He was spare, wore his pince-nez spectacles on a black ribbon, and with a sure sense for symbolism claimed a white hat as his political trademark.
Schricker was vice-president of an investment firm from 1944 to 1948; following his second term as governor he became president of an insurance company. He retired in 1960 to his home at Knox.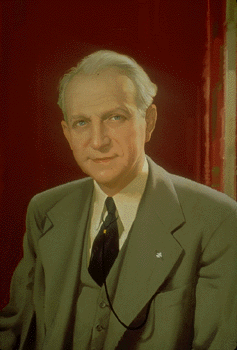 Artist: Randolph LaSalle Coats, American, 1891-1957, painted 1952
oil on canvas, 30 x 25 (76.2 x 63.7)
Signed and dated l.r.: RANDOLPH COATS/1952
A SECOND PORTRAIT of Schricker was commissioned in the governor's second term in 1952, this time from Randolph Coats, who had previously painted the portrait of Governor Gates. The portrait is smaller than the others in the official collection, and has the casual appearance of a wallet photograph. A light shining through the parted red drapery casts a bright beam on the governor's face, outlining the shape of the face and reflecting luminous skin tones. The literal use of color is in keeping with Coats's meticulous style and contributes to the photographic effect. The governor's kind, amiable personality is still conveyed, even through this degree of literalism.
Source: Peat, Wilbur D. Portraits and Painters of the Governors of Indiana 1800-1978. Revised, edited and with new entries by Diane Gail Lazarus, Indianapolis Museum of Art. Biographies of the governors by Lana Ruegamer, Indiana Historical Society. Indianapolis: Indiana Historical Society and Indianapolis Museum of Art, 1978.