Indiana Governor Harold W Handley (1909 - 1972)
Harold W. Handley
Governor of Indiana
January 14, 1957-January 9, 1961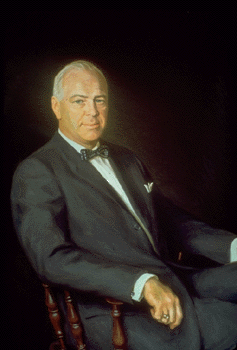 Artist: Donald Mattison, American, 1905-1975
oil on canvas, 46 x 40 (116.8 x 101.6)
Signed and dated l.l.: DONALD M. MATTISON/1959
HAROLD HANDLEY was born in La Porte, Indiana, and graduated from Indiana University. He helped his father with the management of a furniture company in La Porte and became sales representative for a North Carolina-based furniture manufacturer.
Handley's political career in the state senate (1940-1941) was interrupted by his army service during World War II. Upon his return he was elected to the state senate in 1948 and lieutenant governor in 1952. Handley ran for governor and lost in 1952 but was elected governor in 1956. Handley raised some controversy when he ran for the United States Senate in 1958 midway in his term of office. He lost the Senate race to Democrat Vance Hartke and returned to the State House to complete his term. Handley was accessible to both the press and the public, establishing an unusual rapport with the citizens.
In 1961 Handley began an Indianapolis public relations and advertising firm convinced that, although a novice in the business, he would "go out and sell it." A large, gregarious man, Handley's political trademark was a blue polka-dot tie.
Source: Peat, Wilbur D. Portraits and Painters of the Governors of Indiana 1800-1978. Revised, edited and with new entries by Diane Gail Lazarus, Indianapolis Museum of Art. Biographies of the governors by Lana Ruegamer, Indiana Historical Society. Indianapolis: Indiana Historical Society and Indianapolis Museum of Art, 1978.