Indiana Governor Edward L Jackson (1873 - 1954)
Edward L. Jackson
Governor of Indiana
January 12, 1925-January 14, 1929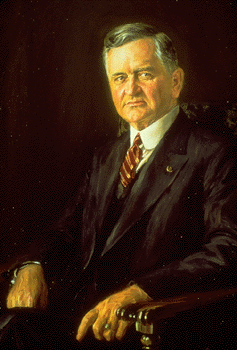 Artist: Robert W. Grafton, American, 1876-1936, painted 1927
oil on canvas, 40 x 30 1/8 (101.6 x 76.5)
Signed and dated l.r.: Robt W. Grafton/1927
ED JACKSON, the son of a millworker, was born and educated in Howard County, Indiana. He studied law and opened his practice in Kennard. In 1898 Jackson entered politics in New Castle and served as Henry County prosecuting attorney; four years later he was appointed circuit court judge. His term as secretary of state was interrupted by his army enlistment in World War I; after his discharge he returned to his political career at the State House.
In 1924 Jackson, a Republican, was elected governor. His administration was plagued with repercussions from political scandals involving D. C. Stephenson and the Ku Klux Klan, and during his term as governor Jackson himself was tried on charges of bribing Governor McCray but was acquitted under the statute of limitations.
Following his term Jackson resumed his law practice, working in Indianapolis until 1937, and then moved to Orleans in southern Indiana to raise cattle and run an apple orchard. Jackson suffered a paralyzing stroke in 1948 and was bedfast until his death.
Source: Peat, Wilbur D. Portraits and Painters of the Governors of Indiana 1800-1978. Revised, edited and with new entries by Diane Gail Lazarus, Indianapolis Museum of Art. Biographies of the governors by Lana Ruegamer, Indiana Historical Society. Indianapolis: Indiana Historical Society and Indianapolis Museum of Art, 1978.